The Phantom of the Opera, London Tickets
Tickets from £27
Her Majesty's Theatre, London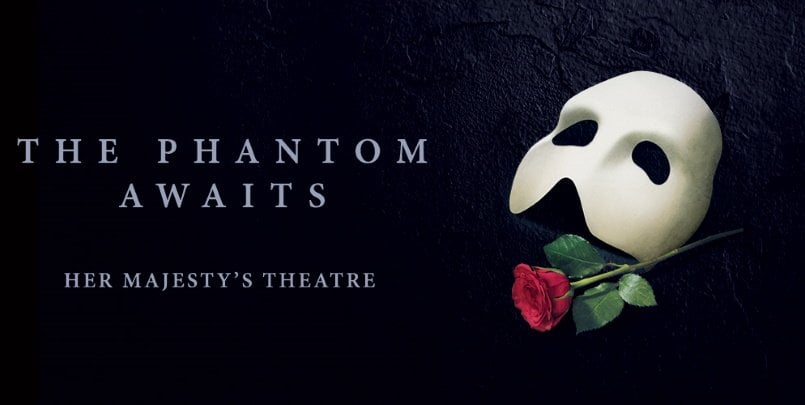 The Phantom of the Opera, is one of the most famous and successful musicals of all time. This show has reached over 140 million people in 35 different countries and has been playing in London at Her Majesty's Theatre for more than 30 years.
It tells the story of the Phantom a deformed composer who lives below the Paris Opera House. Feared by all and shamed by his own appearance, he falls in love with the opera singer Christian Daae, and his love is so strong that even she cannot resist. As Christine becomes increasingly famous, a handsome young man from her past enters the fray. The Phantom becomes livid, haunting and increasingly jealous.
The music, composed by Andrew Lloyd Webber, includes some of the greatest songs ever written for the stage, including "The Music of the Night", "Think of Me", "All I Ask of You", and of course "Phantom Of The Opera".
Reviews
"THIS NEW PRODUCTION, WITH ADDED GREATNESS, IS WORTHY OF ITS PLACE IN THEATRE HISTORY" – Broadway World
"SPECTACULAR ABOUNDS. THE SHOW HAS ONLY GROWN IN ITS ARTISTIC POWER" – The Sunday Times
"SCARILY GOOD – THIS IS THE WEST END AT ITS CROWD-PLEASING BEST" – Evening Standard
More info:
Venue: Her Majesty's Theatre, Haymarket, London, SW1Y 4QL
Age restriction: Children under 4 will not be admitted.
Running time: 2hr 30min (inc. interval)
Content: Recommended for ages 10 and above. Contains adult themes, strobe lighting, lighting effects, and gunshots.
Book with Peace of Mind
Tickets refunded if your event is cancelled
Official tickets from an authorised retailer
100% Secure booking process guaranteed
Free E-Tickets
Secure your tickets today!
Book your tickets to The Phantom of the Opera today!