Harry Potter World London
Harry Potter World London, known as the Warner Bros Studio Tour London, is the best way to explore the making of the Harry Potter movies. Located just outside of London, go behind the scenes to get a glimpse of a world of witches and wizardry. You'll get to see the awesome sets, costumes and props all used in the filming of the movie series including The Great Hall, Diagon Alley, the Forbidden Forest, Platform 9¾ and more! The Warner Bros. Studio Tour London is the highest-rated attraction in the world every year since it opened in 2012! It's a perfect day out for the family and a must-see place on any visit to London for Harry Potter fans!
Our Warner Bros Studio Tours are available almost every day of the year! Book with or without transportation from Central London. 
Harry Potter World London:
Harry Potter World London, known as the Warner Bros Studio Tour London, can be easily visited from Central London. Explore this incredible world on a visit that lasts around 3 hours. Highlights include:
Explore this Harry Potter world of magic and mystery!
Start your visit by walking into the Great Hall and marvel at Hogwarts Dining Room
Walk along Diagon Alley and see shops including Gringotts Bank and Ollivanders wand shop
Enter the Forbidden Forest, an area strictly off-limits to Hogwarts students!
Take a selfie on Platform 9¾ and hop onboard the Hogwarts Express train
Drink a butterbeer at the Harry Potter Cafe and ride a broomstick
See all the amazing costumes props and visual effects like the invisibility cloak and Chamber of Secrets Door!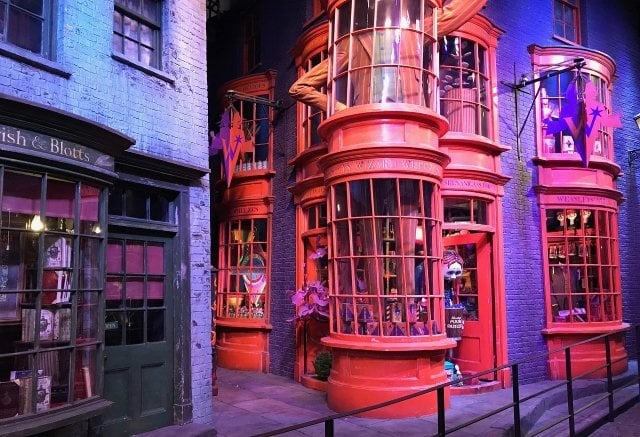 What to expect:
Platform 9¾
See the original Hogwarts Express steam engine train that sits next to a recreation of Platform 9¾. This is probably the most iconic picture of the Studio Sets and you can enter the train and snap a selfie next to the Platform 9¾ sign.
The Forbidden Forest:
The forbidden forest was first seen in Harry Potter and the Philosophers Stone and has been painstakingly recreated at this magical Harry Potter world. This epic area is traditionally a no-go area for students but is where Harry and his friends have some of their most exciting adventures. In its recreation at the studio, you'll get to see the giants spiders including a massive version of Aragog, amazingly tall trees and spooky vegetation.
Diagon Alley:
Take a trip down Diagon Alley, the Wizarding shopping street full of restaurants, shops, and other sights. Discover this magical world of Harry Potter, pass the Leaky Cauldron pub on your way in, and enter the alley which is completely hidden from the muggle world surrounding it. The Warner Bros. Studio Tour London has recreated some iconic places such as Gringotts Wizarding Bank. You'll also see the boarded-up windows of Florean Fortescue Ice Cream Parlour and the joke shop named Weasleys' Wizard Wheezes.
The Great Hall:
Enter the Great Hall which is the main meeting space in Hogwarts Castle. Four long tables surround the room which is used for eating, with the staff table (the High Table) at the top. You'll get to see the Throne Chair where the headteachers sit, as well as amazing decorations like the floating candles. The Great Hall has been recreated in this magical Harry Potter world and this is the first thing you'll see upon entering!
Potions Classroom:
The potions classroom was located in one of the dungeons of Hogwarts Castle and was used for teaching potions. The studio has recreated over 950 potion jars, each filled with interesting objects like shrunken heads or dried bones. The room at the studio was used in the filming of both Harry Potter and the Order of the Phoenix and Harry Potter and the Half-Blood Prince.
Eating & Drinking
There are two cafes at Warner Bros. Studio Tour London, each serving a varied menu of hot and cold foods ranging from sandwiches and salads to cooked meals. You can also try a butterbeer and there is a picnic area if you decide to bring your own food.
Special Exhibits:
You'll find lots of special exhibits throughout the year that explore different aspects of the world of Harry Potter. Stay tuned to find out what's on, and discover the special displays that might be showing during your visit. Any special exhibits will be included in your normal ticket price, so there are no additional fees on the day.
How to Get Tickets:
Harry Potter World London, known as the Warner Bros. Studio Tour London, is one of the most popular attractions in the world with over 6,000 visitors a day! This means that tickets get booked up months in advance. We recommend planning your trip early and buying your tickets at least 6 weeks in advance.
Getting to this magical London world of Harry Potter is easy! The Warner Bros Studio Tour is located 20 miles from Central London and there are lots of tours which include tickets and transportation from Central London. Our tour from Victoria Coach Station departs several times a day and you can choose from a morning or afternoon departure. You'll travel to this Harry Potter world in luxury transportation with the journey taking about 1 hour.
We also offer a tour with hotel pickup which is the best option if you prefer to travel in a smaller group vehicle. You'll travel directly to this world of Harry Potter from your accommodation. Alternatively, you could choose to stay in a nearby hotel and purchase just an entrance ticket.
Please be aware that you must purchase tickets in advance! If you find that tickets are sold out we've come up with a useful last-minute guide.