Full Day Tour of London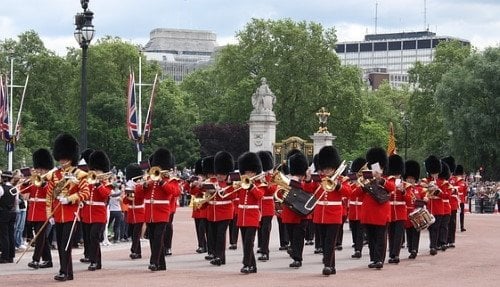 Our full day tour of London brings together a grand taste of the capital's finest and most exquisite attractions for you to enjoy. Overall, you'll get to see 4 amazing places plus a

Available Every Day from £

122

per Person

4 AMAZING LANDMARKS PLUS A RIVER CRUISE!

no hidden fees
Our full day tour of London brings together a grand taste of the capital's finest and most exquisite attractions for you to enjoy. Overall, you'll get to see 4 amazing places plus a private river cruise along the Thames! And you'll have one of our highly experienced and enthusiastic guides by your side to tell you all about them! We use luxury coaches with free wifi to chauffeur you around on the best full day tour of London!
This tour includes enhanced hygiene and distancing measures to ensure your safety and comfort. You can see further details about our COVID-19 protocols and measures at the bottom of this page!
where will you go?
1. st paul's cathedral
Our day begins with a visit to St Paul's Cathedral. This is one of the world's largest churches and boasts the second largest dome in the world. Rebuilt after the Great Fire of London in 1666 by the architect Sir Christopher Wren, it was the tallest building in London right up until 1962.
We are the first group inside St Paul's Cathedral, entering immediately as the doors open to the public, with a professional guide and fast track entry tickets.
2. Buckingham palace
From here, we continue with a panoramic drive through London seeing the Houses of Parliament and the London Eye. We will stop for a photo outside of Westminster Abbey.
Arrive at Buckingham Palace, home of the Queen of England! We'll admire the wonderful exterior of one of the most famous buildings in the world. AND we'll get a chance to see the really impressive Changing of the Guard Ceremony. It's definitely something not to miss! You'll also have some free time for lunch, and your guide will be happy to recommend some nearby places to eat.
3. tower of london
The afternoon begins with a visit to the Tower of London which is almost 1,000 years old! It was built as a Royal Palace and medieval defence system, although its best known as a notorious prison, where criminals were "sent to the Tower" to be locked up.
Today, the Tower of London houses an amazing collection of jewellery including the Crown Jewels which we'll get to visit! You'll have time to walk around this impressive fortress and learn about its long history on your guided tour.
4. river thames cruise
Our full day tour of London continues with a cruise along the River Thames. Enjoy a 40-minute private* boat cruise with wonderful views of major London landmarks. You'll get to see the best views of Tower Bridge, The Shard, St. Paul's Cathedral, Shakespeare's Globe, Big Ben and the Houses of Parliament whilst being entertained by your tour guide. Travel in a modern boat with climate-controlled indoor cabins, comfortable seating, outdoor back decks, toilets and on-board bars.
5. the london eye
The final stop on our guided day tour of London is a ride on the London Eye, a giant observation wheel with magnificent views of the London skyline. You will see most of London landmarks: the Houses of Parliament, Big Ben, Westminster Abbey, Shard, the river Thames of course, Buckingham Palace, The Tower and The Tower Bridge, St.Paul's Cathedral, Hyde Park and so much more!
Highlights:
Depart London Victoria station at 07:45am in the comfort of our luxury air-conditioned coach
Arrive at St. Paul's Cathedral, an architectural masterpiece that is home to the tombs of Nelson and Wellington
Drive past some major London landmarks including Big Ben and Westminster Palace
Head to Buckingham Palace to watch the lively and entertaining Changing of the Guard ceremony
Start the afternoon with a tour of the Tower of London. Learn the history of this extraordinary place and see the Crown Jewels
Take a private boat cruise along the River Thames and view some of London's most famous landmarks including St. Paul's Cathedral, Westminster Abbey and the Shakespeare Globe Theatre.
Take in the capital's iconic landmarks and see the London skyline with a ride on the London Eye
Why choose this tour?
We know there are lots of London day tours to choose from! So what makes our special?
You'll be the first group inside St Paul's Cathedral, beating the crowds!
We use a private boat for the River Thames Cruise during the summer months
We use the best and friendliest English speaking guides
You'll travel in a first-class motorcoach with free wifi
Additional Information
The tour departs at 07:45 from Victoria Coach Station and ends at the London Eye.
It includes entrance fees to St Paul's Cathedral, Tower of London & the London Eye
It does not include food, drink or meals
*The cruise on a private boat operates during summer months
If the Changing of the Guard Ceremony at Buckingham Palace does not take place, we will still visit Buckingham Palace for a photo stop.
On Sundays, there is an opportunity to enter St Paul Cathedral and enjoy one of the services, but there will be no guiding inside the Cathedral. Occasionally, if St. Paul's Cathedral is closed we will operate an extended panoramic tour of the city.
Covid-19 Safety Policy
Your vehicle will be deep cleaned at the start of the tour
Face masks, gloves & hand sanitiser available to all guests
Staff, guides and drivers are fully trained on hygiene protocols and social distancing procedures
Free cancellation up to 24 hours before departure
St Paul's Cathedral:
St Paul's Cathedral is the first place we will visit on our full day tour of London. This is one of the most instantly recognizable cathedrals in the world. The cathedral has been here for over 1,400 years, and after the 1666 Great Fire of London was rebuilt by Sir Christopher Wren – a task that took him 35 years to complete. It has played an important part in national life and is where the funeral of Sir Winston Churchill and Margaret Thatcher took place. It is also where Prince Charles and Diana got married in 1981. The dome was inspired by St Peter's Basilica in Vatican City and is the second-largest cathedral dome in the world. The tomb houses over 200 monuments, including the tombs of Lord Nelson, the Duke of Wellington and the architect Sir Christopher Wren. 
the Tower of London:
The Tower of London is one of the highlights of our full day tour of London. This UNESCO World Heritage Site is recognized as one of England's most iconic landmarks. It was built in 1066 by William the Conqueror to demonstrate the power of the Norman conquest, as well as to act as a fortress and gateway into London. Today, it is the best-preserved 11th Century fortress-palace in Europe. The palace has become a symbol of both royalty and terror. It was used as a prison for hundreds of years, and during those times saw many executions.
London Eye
Our full day tour of London ends with a ride on the London Eye. After a long day seeing the best sights in the capital, sit back and relax as you take a 30 minute ride. The London Eye is located on the River Thames, and you'll get to take in wonderful views of the city. On a good day you can see views of up to 25 miles! You'll ride in the comfort of a fully air-conditioned capsule that is designed to optimize your viewing experience. 
terms and conditions
Booking is subject to
terms and conditions
of the tour operator. All passengers are advised to arrange travel insurance.