Where to Stay in London - Best Areas in London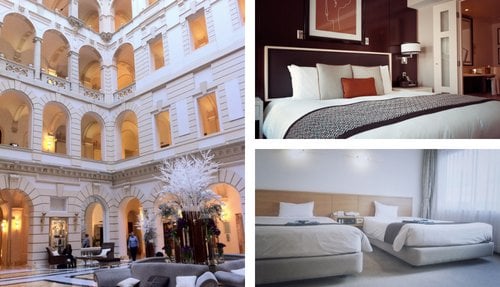 Our guide on where to stay in London. Central London is enormous, covering around 8 miles from west to east, and 5 miles north to south. This means there is no single best area to stay in London. Wherever you choose to stay, you will have to travel around to see all the main tourist attractions. Luckily, London has one of the best public transportation systems in the world, with an extensive underground and bus network. It's helpful to look for a place to stay near an underground station, from which you can travel to almost anywhere in Central London within 30 minutes. There are also lots of bus routes that crisscross the underground, which means that all of Central London is very well connected. Finally, our London City Break package includes a hotel and sightseeing and is perfect for first-time visitors to the city.
Where to Stay in London
Our overall favourite:
The West End is a major tourist district right in the centre of London. It's where you'll find lots of theatres, great shopping, excellent restaurants and buzzing nightlife. High hotel prices reflect the West End's outstanding central location, and there are lots of 4-star and 5-star hotels in the area. This is the best area for families, couples, singles… just about anyone!
Best Area for Sightseeing:
Head south of the River Thames to the Southbank neighbourhood for hotels closeby to sightseeing attractions. Here, you're near to the London Eye, Shakespeare's Globe and other popular tourist spots.
On a budget:
Head a little further out, and you'll find some excellent budget hotels options. Whilst areas like Victoria or Paddington don't have a lot of attractions, they have excellent transportation links. This means you're only a short ride away from many of London's tourist sites.
Looking for luxury:
There are no shortage of luxury places to stay in London. Try looking for hotels near Hyde Park in neighbourhoods like Mayfair or Kensington. These offer the perfect combination of excellent location and top-notch accommodation.
Hotels in London – from West to East
In this article, we'll take you through the best areas to stay in London from West London to Central London and East London, in terms of price, location, ease of access and facilities. We'll also point out nearby underground stations since they are the easiest and most efficient way of getting around. We've also listed some hotel recommendations for each area.
Hotels in West London
There are lots of hotels in West London, combining a diverse set of neighbourhood. Budget and mid-priced areas of West London including areas like Earls Court, Victoria and Paddington. Here you'll find lots of well known hotel chains in London. At the luxury end the hotel market, you'll find areas like Kensington, Knightsbridge and Chelsea filled with 5-star hotels and boutique accommodation.
Hotels in Earls Court & Cromwell Road
Earls Court and Cromwell Road is a major hotel district in West London where you'll find lots of budget hotels. This area tends to be very popular with backpackers and students. There are many large 4-star hotels, used by coach tours, mainly along Cromwell Road. There's also an enormous amount of budget nightlife, clubs and restaurants in the area which is geared towards young people. Bear in mind that Cromwell Road is one of the busiest streets in London, so if you do stay here make sure to ask for a room at the back of the hotel to avoid the traffic noise!
Bottom line: If you are on a budget, this is a good compromise neighborhood as it's easy to get into Central London with the tube.
Transportation: There are three underground stations that cover this area: Earls Court, West Brompton and Gloucester Road. Its a particularly good neighbourhoood for getting to and from Heathrow Airport, with direct trains operating along the Piccadilly line.
Local sightseeing: This is not an area with any tourist attractions, and there is nothing to see in the neighborhood during the daytime.
Nightlife: You'll find good value for money restaurants in the area, along with a few local clubs, bars and pubs.
Shops: Mostly local convenience stores.
Cost: Budget hotels & hostels.
Where to Stay in Earl's Court & Cromwell Road:
Hotels in Kensington & Knightsbridge
These districts are in West London near Hyde Park and you'll find high priced hotels in the area. Kensington is a very swanky neighborhood where many of the large museums are located, along with some exclusive shops. Knightsbridge is home to Harrods department store and Harvey Nichols. It's a great area for people wanting a quiet place to stay and especially for families.
Bottom line: A great area to stay for tourists looking for a very upmarket, quiet and stylish neighborhood. With several national museums located nearby, excellent restaurants, a range of boutique shops, plenty of green spaces and good transport links, this is one of the best places to stay in London!
Transport: The area has excellent transportation with lots of tube stations that go to the major sights in Central London. The main stations are High Street Kensington, South Kensington, Knightsbridge, and there is particularly good access to Heathrow Airport.
Local Sightseeing: Within walking distance of Hyde Park, Kensington Palace, Kensington Gardens, the Royal Albert Hall and the museum neighborhood (The V&A Museum, Science Museum & Natural History Museum).
Nightlife: There are lots of restaurants in the area, which tend to be exclusive and very expensive. There are also a few high-end clubs and some very old pubs.
Shops: Kensington High Street is the main shopping street, where you'll find all the main high street brands. Harrods department store and Harvey Nichols are located on Brompton Road and there are some very small exclusive shops around South Kensington.
Cost: Exclusive, very high-end and expensive luxury hotels
Where to Stay in Kensington & Knightsbridge:
Hotels in Chelsea & Belgravia
Chelsea merges into South Kensington and Knightsbridge. It's a very trendy, upmarket and expensive area, very similar to Knightsbridge. The main street is The Kings Road between Oakley Street to Sloane Square and this is where you'll find lots of exclusive shops. Nearby Belgravia is megabucks, with a few exclusive 5-star hotels.
Where to Stay in Chelsea & Belgravia:
Hotels in Victoria
Victoria is a small area with a large concentration of budget hotels. It's a very good location for walking to Buckingham Palace which is located nearby. It also has one of the busiest underground and overground stations in the capital, so you can get to all of the tourist attractions easily from here.
Bottom Line: A great place to stay for tourists on a budget
Transport: Transportation is excellent, with direct trains to Gatwick Airport, 2 underground lines connecting to all of Central London and a central bus terminal, with coaches to Luton, Stansted & Heathrow Airports. Most of the sightseeing day tours of London and day trips from London depart from Victoria coach station.
Local sightseeing: There's nothing to see in Victoria itself, but you are only a 20-minute walk from Buckingham Palace, St James's Park, Westminster Abbey, the River Thames, Houses of Parliament and Big Ben
Nightlife: There is a mix of restaurants in the area, from budget to high end, along with a few pubs and bars.
Shops: Mostly convenience stores
Cost: Budget hotels and hostels
Where to Stay in Victoria:
Hotels in Paddington & Bayswater
This Paddington/Bayswater area is located just north of Kensington Gardens and Hyde Park in West London. There are many hotels of differing standards and it's a very popular area to stay for tourists, with excellent transport links.
Bottom line: A convenient location, close to the shops in Oxford Street and the Royal Parks. A great place to find budget and mid-price hotels.
Transport: Excellent transport with Notting Hill Gate, Bayswater, Queensway, Lancaster Gate, Marble Arch and Paddington tube stations in the area. The Heathrow express train runs from Paddington overground station to the airport in just 15 minutes. Look for hotels on or near Bayswater Road, which is where the underground stations are located, and is just opposite from Hyde Park and Kensington Gardens.
Local sightseeing: Both Kensington Garden and Hyde Park are within walking distance and perfect for an early morning stroll! There are quite a few things to do with kids in the area, and you can also walk through the gardens to the museum district on the other side.
Nightlife: Lots of restaurants of different prices along with pubs and clubs in the area
Shops: The main shopping street is called Queensway, which has mostly local shops. Bayswater Road leads eventually into Oxford Street, which is the busiest shopping street in Europe.
Cost: Budget to mid-price hotels.
Where to Stay in Bayswater & Paddington:
Hotels in London City Centre
Whilst London doesn't officially have a City Centre, an area called The West End is the center of tourist attractions in London. It is made up of several smaller areas, each with its own character and price. The main areas are Marylebone, Oxford Street, Mayfair, Soho, and we'll look at each area individually.
In general, the West End is excellent for transportation. The main street running through the area is called Oxford Street, and the main stations are Marble Arch, Bond Street, Oxford Circus and Tottenham Court Road.
Hotels in Marylebone
Marylebone is a very upmarket, expensive centrally located area. There isn't a lot of accommodation here, but there are a few delightful boutique hotels. In general, this is a very exclusive and quiet part of Central London. Local sights include Bakers Street with the Sherlock Holmes museum, Madame Tussauds, and Regents Park. The main shopping street is Marylebone High Street, with great stores and restaurants. And on the southern edge of Marylebone is Oxford Street and the heart of London's shopping district.
Cost: Around £150-£250 per night
Bottom line: Perfect for those looking for a sophisticated, upmarket neighborhood that feels like a village within the city.
Where to Stay in Marylebone:
Hotels in Mayfair
One of the most expensive areas in London, so make sure to bring your wallet 🙂 There are mainly luxury hotels in Mayfair, with those on the west side overlooking Hyde Park and on the south side overlooking Green Park and Piccadilly.
Where to Stay in Mayfair
Bottom line: A wonderful and quiet area to stay if your budget allows! There are some seriously expensive and classy hotels in this area like Claridges, The Ritz and the Chesterfield Mayfair. A more affordable option might be the Holiday Inn Mayfair
Hotels Near Oxford & Regent Street
The beginning of Oxford street around Marble Arch and Portman Square is where you'll find many 4 & 5 star hotels. There are lots of tourist restaurants and pubs down some of the side streets, especially St Christopher's Place. There are also a few places to stay along Regent Street. This is a very central location in London.
Bottom line: This is an extremely convenient location if you are planning to do a lot of shopping during your stay in London, with medium to high priced hotels.
Where to Stay in Oxford/Regent Street:
5* Hotel: The Montcalm Marble Arch – at the top of Park Lane, and with great access to all the main shopping streets
5* Hotel: Cafe Royal – elegant hotel on Regent Street
Luxury Hostel: YHA Oxford Street – part of the YHA chain, in an amazing location on Oxford Street
Trendy Hotels in Soho
Soho is a trendy area to stay in London for younger tourists, with a lively and buzzing nightlife, and lots of pubs, bars and restaurants open until late. It's also the heart of London's LGBT community. Soho is in walking distance of the theatre district and major shopping streets like Oxford Street, Regents Street and Carnaby Street. And you can easily walk from Soho to Piccadilly Circus, Green Park, St James's Park and beyond.
Bottom line: The place to be for buzzing nightlife, but bear in mind that hotel prices are on the expensive side.
Where to Stay in Soho:
Hotels in London Theatre District
Covent Garden is London's theatre district, located right in the heart of the capital next to Soho. The area around Covent Garden market is a lively place to be both day and night with lots of restaurants in the area. It's within walking distance of Soho, Oxford Street, The River Thames and it's easy to get around via Covent Garden underground station.
Bottom line: A great area for anyone to stay if your budget allows!
Where to Stay in Covent Garden:
5* Hotel: Covent Garden Hotel – a charming English-designed boutique hotel
4* Hotel: The Henrietta Hotel – a small 18-bedroom boutique hotel with beautiful architectural features
3* Hotel: Assembly Hotel – a fantastic location with clean, modern and tidy rooms
Family Hotels in Bloomsbury
This area is a great compromise between price and location with lots of 3 and 4 star hotels and is perfect for families to stay. Bloomsbury is a quieter area popular with families, with green spaces like Bloomsbury Square Garden and small streets like Sicilian Avenue. The neighbourhood attracts artists, writers, and painters, with the British Museum located in Bloomsbury, and it's only a 20-minute walk to Covent Garden and Oxford Street.
Bottom line: A good location and affordable prices, with excellent transportation links and close proximity to the shops of Oxford Street. Possibly the best location to stay in London for families
Transport: The main stations are Russel Square and Holborn. It's close to Euston, St Pancras and Kings Cross stations. This area is especially convenient if you are traveling on the Eurostar trains or to Luton airport.
Local Sightseeing: The British Museum and it's a very pretty area.
Nightlife & shops: The best restaurants are located down Torrington Place but there isn't much in the way of shops or nightlife in the area. You'll find mainly convenience stores.
Cost: Budget to mid-price
Where to Stay in Bloomsbury:
Hotels near Kings Cross
A budget area around Kings Cross, St Pancras and Euston stations. The transportation links are excellent, with mainland trains to Northern England and the Eurostar to Paris.
Bottom line: There is nothing to do or to see in the area, the only reason to stay here would be because of the price and close proximity to train stations.
Where to Stay near Kings Cross
Where to Stay in London, South of the River
The Southbank neighborhood is located south of the River Thames, immediately across from the Houses of Parliament. You'll find a lot of budget hotels here, as well as several luxury hotels overlooking the river. The London Eye, Southbank entertainment centre and Imperial War Museum are all located nearby.
Bottom line: A great place to stay if you are looking for budget hotels that are conveniently located.
Transportation: Excellent transportation with Waterloo mainland and underground station. along with Lambeth North and Elephant & Castle underground stations.
Restaurants, shops or nightlife: Not many restaurants, shops or nightlife in the area.
Cost: Mostly budget hotels and hostels, with some very expensive hotels overlooking the river
Where to Stay in Southbank & Waterloo
Hotels in the area: Park Plaza Westminster Bridge is a good place to stay with families, with lots of attractions within walking distance. There are plenty of options for budget travelers and backpackers.
London Airport Hotels
There are four major international airports serving London, and each have hotels nearby. You can also easily reach the hotels by taking public transportation from London.
London Heathrow Airport is serviced by many major hotel chains. There's also a Heathrow Express train that goes directly from the airport to London Paddington. This means it's popular to look for hotels in the Paddington area when travelling to Heathrow.
There are lots of hotels in and nearby London Gatwick Airport. Many of the hotels have direct access to the North Terminal or South Terminal or are within easy walking distance. The Gatwick Express train runs directly from the airport to London Victoria, and so it's also popular to stay in London's Victoria neighbourhood.
There are a few hotels located nearby Stansted Airport. Two of the hotels are within walking distance of the terminal, whilst several more can be reached with a shuttle bus.
Other Areas to Stay in London:
There are other areas in London with hotels, especially in Camden, Shoreditch, the East End of London and the financial centre which is called "the City of London". Some of these places can have poor transportation links, with few underground stations, and will be further away from the major tourist attractions. For this reason, we haven't recommended any hotels in these areas.
As a rule, be particularly cautious if there is no underground link into Central London from your hotel. Sometimes there may be an overground station nearby, but the cost of train tickets is high. Also buses from outside the centre can have long journey times and will get caught up in rush hour traffic. This means whilst hotel prices may seem very cheap after you factor in the extra cost of transportation and the wasted travelling time, there are normally better places to stay for tourists in the centre of London.
Hotels near Attractions
There are some areas that are good for staying in London to get to a specific attraction. For example, there are lots of hotels near Wembley Stadium that are ideal if you are going to an event or match at the stadium. There are lots of hotels near Kew Gardens that are perfect for a visit specifically to the botanical gardens.
Similarly, you'll find lots of hotels near ExCeL London which are ideally located if you are attending a conference or event at the centre, but less so if you are looking to do some sightseeing in the heart of the capital.
Further thoughts
Sightseeing: If this is your first time visiting the capital, a great way to orient yourself is with a London double-decker sightseeing bus tour, where you can see all the major attractions on the first day and get a feel for the city.
Safety: All of the areas that we've listed as good places to stay in London for tourists are safe to walk around. But as in all major cities be cautious, especially at nighttime.
Hostels: London's hostel scene has been hotting up over the last couple of years, with some of the top hostels in London considered to be amongst the best in the world.
Traveling: If you are traveling around London, you will need a contactless payment card like the visitor Oyster card, in order to get the cheapest travel rates.