Bath is reopening following the easing of lockdown restrictions in England. Most outdoor and indoor activities are now open to the public. All attractions have implemented new safety measures and many are limiting visitor numbers to allow for distancing and avoid overcrowding. It's recommended to book your tickets in advance to secure entry!
Hop on Hop off Bath
Hop on Hop off Bath buses are now open for booking. You'll get panoramic views of the city, with stops outside many of the most famous landmarks in the city.
Book Tickets: Hop on Hop off Bath >>>
Guided Walking Tour – 1.5 hours
Get to grip with Bath with a 1.5 hour guided walking tour. A professional blue badge guide will take you past major sites including Bath Abbey, Royal Crescent, The Circus, and Pulteney Bridge
Book Now: Bath Walking Tour >>>
Bridgerton Walking Tour of Bath
A brand new Bridgerton walking tour of Bath is now open for booking! Bath was used as a major filming location for the hit Netflix series that's taken viewers worldwide by a storm. You'll get to see many of the real-life Bridgerton locations on this walking tour!
Book Tickets: Bridgerton Walking Tour >>>
Jane Austen Centre
The Jane Austen Centre is open from 19 May 2021. Explore the life of Bath's most famous resident and gain a snapshot of life during Regency times and how it effected Jane Austen and her writings.
Book Tickets: Jane Austen Centre >>>
Bath Short River Cruise
Bath river cruises are opening from 18 May 2021. Enjoy a 25-minute boat trip along the River Avon. Travel in a traditional small river cruiser, where you'll see Pulteney Bridge, Bath Abbey, the city centre architecture and more. This 25-minute river trip in a traditional river cruiser is a great way to explore Bath.
Book Tickets: Bath River Cruise >>>
The Roman Baths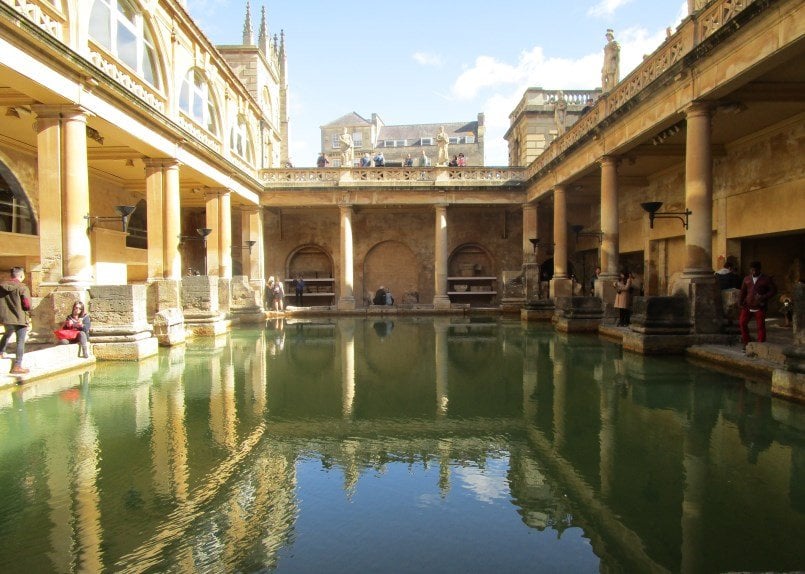 The Roman Baths are open from 17 May 2021. Discover 2,000 years of history at this award-winning attraction. The Roman Baths will be operating a one-way route with capacity reduced to 20%. Tickets must be booked in advance.
More Attractions Open in Bath
The Thermae Bath Spa is now open for visitors, with special safety measures in place
The Holburne Museum reopens on 17 May. Bridgerton fans will recognize this as the home of Lady Danbury. The museum will present an exhibition showcasing the most important set of paintings of Venice by Canaletto
Bath Abbey is open for general sightseeing and visiting
Several other museums in Bath are now open including The Herschel Museum of Astronomy (from 19 May); American Museum (from 17 May)
No.1 Royal Crescent will reopen on 2 June 2021. It reopens with a brand new immersive experience called The Georgian Home in Bath
Wilton House is also reopening from 17 May. You can visit it as part of our Bridgerton Tour from London.