Visiting Leeds Castle is the perfect way to spend a day in Southern England and boasts an incredible history that dates back over 900 years! This majestic castle is located in the idyllic Kent countryside and has everything you'd expect from an ancient British castle including extensive grounds, gardens, a moat, a rampart and several towers. Perhaps what makes this castle so exceptional is its breathtaking location, with some magnificent views over the surrounding countryside.
about the castle:
A former Norman stronghold, Leeds Castle was bought in 1278 by King Edwards in honour of his first wife. Since then it passed into the hands of several Royal Families before being transformed by King Henry the VIII for his first wife, Catherine of Aregon. In 1823 a new castle was completed in the Tudor Style, and that's the way the castle has remained right up until today.
what to see:
Your visit to Leeds Castle begins with an entrance through the gatehouse where you'll immediately begin to feel the weight of history around you. Head straight to the Norman cellars which are infact the oldest surviving part of the castle, built over 900 years ago in the 12th Century. One of the cellar rooms includes a timeline around its wall that gives a comprehensive overview of the castle during that period.
Interior:
Next, continue into the castle interior where you'll get a chance to feel what life was like during the centuries. Start with a visit to the Queens room, a fascinating display of the grandeur of royal life, with decorative wall coverings and intricate details. From here, head to the largest room in the castle, Henry VIII banqueting hall, which is ornamented with beautiful calved ceiling beams, wooden floors and a large bay window. The chapel is also magnificent and gives plenty of insight into the castles deep history. Other stunning rooms include the library, which is covered from floor to ceiling with books, and several more recently renovated rooms like the boardroom, the yellow bedroom and the seminar room.
Outside: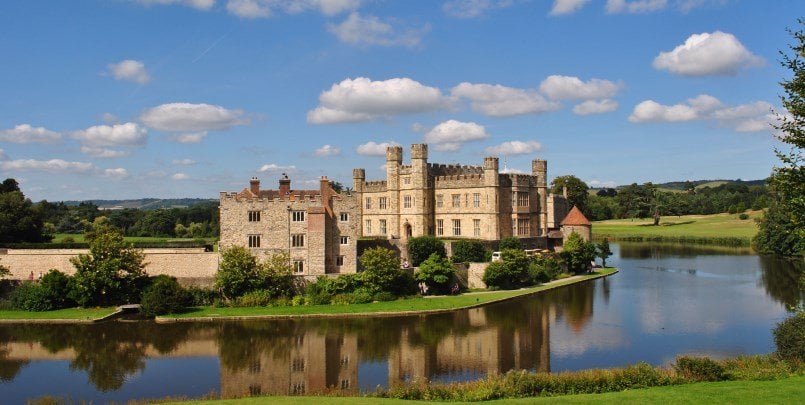 Arguably the highlight of a visit to the Leeds Castle are its magnificent gardens. There's nothing quite like an English country garden, full of vibrant colours and magnificent smells. Start with a walk through the Maze Garden, a perfect spot for kids to run around! From here, head into the medieval Grotto complete with stunning sculptures and mythical beasts. Finally, head to the other side of the lake for stunning views of the Castle and moat. The grounds are idyllic for bird watching and the beautiful black swan's are an icon of Leeds Castle.
Fun fact:
Don't confuse Leeds Castle with Leeds the city! Whilst the City of Leeds is located hundreds of miles away in Northern England, Leeds Castle is named after a little village a few miles away which appears all the way back in the doomsday book of 1086!
visiting Leeds castle:
Leeds Castle is located in Southern England, 5 miles southeast of Maidstone and around 40 miles from London.
Address: Leeds Castle, Maidstone, ME17 1RG
Telephone: 01622 765400
Website: leeds-castle.com
getting to leeds castle:
There are several ways of visiting Leeds Castle. Tourist England offers a day tour to Leeds Castle from London. There are also several buses and trains that stop in the area. For more travel information on visiting Leeds Castle, see our dedicated article here.
We also offer private tours to Leeds Castle from London. See here for more details.