Shuttle Transfer from Southampton Cruise Terminal to London
Our shuttle transfer goes from Southampton Cruise Terminal to London and Heathrow Airport and London hotels. Our taxi service is carefully coordinated with the arrival of your cruise ship. You will be greeted
Available on selected dates from £
97
per Person
Up to 8 Passengers per Vehicle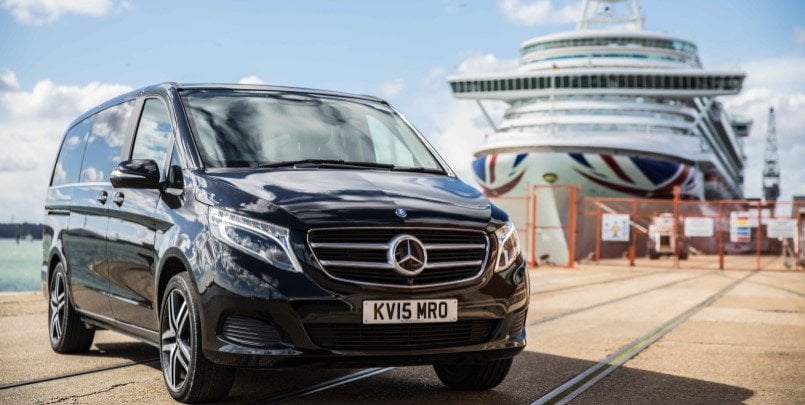 Our shuttle transfer goes from Southampton Cruise Terminal to London and Heathrow Airport and London hotels. Our taxi service is carefully coordinated with the arrival of your cruise ship. You will be greeted by our driver at Southampton Cruise Terminal and accompanied to the nearby executive vehicle. Enjoy an easy and stress-free journey to London or Heathrow in an executive vehicle with wifi. Our generous luggage allowance means each passenger can bring up to 2 pieces of hold luggage, and 2 pieces of hand luggage.
This is a small group shuttle transfer, with a maximum of 8 passengers per vehicle. Our shuttle is available for Royal Caribbean, Oceania, NCL, Celebrity, Princess & Disney cruise ships visiting Southampton.
Transfer Schedule
08:00: Meet driver outside Southampton terminal building exit
08:30: Depart Southampton Cruise Terminal
10:30: Arrival at Heathrow – dropoff at Heathrow hotels & terminals
11:00: Arrival in Central London – dropoff at London hotels* & railway stations
*You can see a complete list of drop off hotels and railway stations on our book now page
Luggage Allowance
Hold Luggage: A maximum of 2 pieces of hold luggage per person. Each piece of luggage can weigh a maximum of 23kg
Carry-on luggage: A maximum of 2 pieces of carry-on per person. Each piece of luggage can weigh a maximum of 23kg
If you are bringing a walking aid, please contact us in advance with the dimensions and weight. These items must be able to be folded and stored in the luggage hold. Wheelchairs are considered as 1 item of your hold luggage
Departing from Southampton Cruise Terminal
Nearly all cruises at Southampton arrive between 05:00am and 06:00am in the morning, with disembarkation starting around 07:00am.
Your driver will meet you at the exit of the cruise terminal from 8:00am. The driver will be holding a clear sign and will be very easily identifiable
There is a typical walk of about 100 yards from the Cruise Terminal to your vehicle
Our shuttle will depart Southampton Cruise Terminal at 8:30am
In the very unlikely event your ship is delayed into port, we will delay our departure time accordingly (applicable only to the listed ships we service). For all delayed ship arrivals we will aim to leave at the latest one hour after docking (and earlier if possible).
Arriving at Heathrow Airport
Our Southampton shuttle includes dropoff at all Heathrow terminals and most hotels
You can find a list of hotels we service here
If you are taking a flight on the day of your transfer, we advise arriving at the airport at least 3 hours prior to your departure time. This means we do not recommend this shared taxi for anyone departing Heathrow Airport before 13:30pm.
Arriving in London
Our Southampton shuttle can drop off at all hotels in Central London. You can see a list of hotels  here If your hotel is not listed, please contact us to see if we can dropoff at your hotel.
For passengers staying in London Docklands (an area outside of Central London), we can provide dropoff to several hotels which you can see on our book now page.
For passengers booking a train for onward UK travel, we would recommend booking train tickets for after 13:00pm.
For passengers travelling on the Eurostar train from St Pancras International Station, we recommend booking the train after 13:30pm.
For passengers flying from Gatwick, Stansted or Luton Airport, please note we are unable to drop off at these airports. However, we can drop off at Victoria Station at approx. 11:45 am, and from here there are trains and buses that go directly to these airports.
Book with Confidence
Fully refundable and amendable up until 7 days before travel, with a flexible booking guarantee! You can view the booking conditions during the booking process, prior to confirmation of any booking
If your cruise ship cancels for any date in 2023 we will immediately offer a change of date or a full refund, whichever you prefer
If the UK reintroduces lockdown or quarantine measures, we will immediately offer a change of date or a full refund, whichever you prefer
More Info:
Prices are per passenger (there are no reduced fares for children, students or seniors)
If your cruise ship docks on schedule and disembarkation begin as normal, we cannot be held responsible in the unlikely event you are unable to disembark in time to meet your transfer.
All arrival times are approximate and depend on traffic conditions which can vary
Post-Cruise London Package – Transfers & Accommodation
We also offer a post-cruise package for passengers staying in London for a few days after their cruise. This is a hassle-free way of spending your post-cruise vacation in London, where you can book your transfers and hotel accommodation in the same package. 
Post-Cruise Package Highlights:
Shared taxi transfer from Southampton to London
Stay in a 4-star or 5-star hotel in Central London
A 1-day London sightseeing tour
Transfer from your hotel to Heathrow or Gatwick Airport
You can see further details about the post-cruise package here.
terms and conditions
Booking is subject to
terms and conditions
of the tour operator. All passengers are advised to arrange travel insurance.
you might also be interested