Loch Ness Tour from Edinburgh - 1 Day
Our Loch Ness tour from Edinburgh is the best way to visit Scotland's most magical locations including Loch Ness and the Highlands. Our epic journey from Edinburgh to Loch Ness takes us past
Available Every Day from £
56
per Person
Group Tour Operating Now!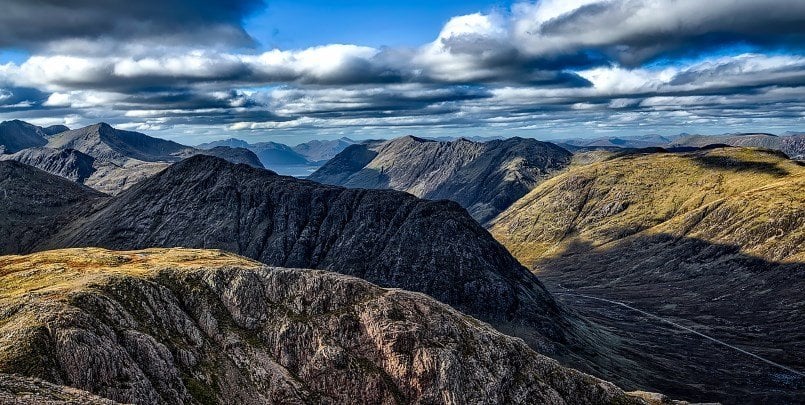 Our Loch Ness tour from Edinburgh is the best way to visit Scotland's most magical locations including Loch Ness and the Highlands. Our epic journey from Edinburgh to Loch Ness takes us past beautiful countryside. We'll see local wildlife, pass by ancient castles, visit pretty towns and more. Spend a full 2 hours by the shores of Loch Ness, with plenty of time to try and spot the Loch Ness monster or take an optional boat cruise along the lake.
This tour departs every day with pick-up from Lawnmarket, a main street located in the heart of Edinburgh. Accompanied by an expert tour guide in comfortable transportation, get ready for an unforgettable trip to Loch Ness!
Free cancellation: Cancel up to 24 hours in advance to receive a full refund
Loch Ness Tour from Edinburgh – Highlights
Leave Edinburgh at 8am on a group tour with a friendly driver/guide
Drive to Loch Ness, stopping several times along the way to admire the breathtaking landscape
See Glencoe which featured in several Harry Potter movies and the James Bond movie Skyfall
Arrive at Loch Ness where you'll have around 2 hours to explore. Take an optional boat cruise along Loch Ness and try to spot Nessie the Loch Ness Monster!
Return to Edinburgh, driving through the Cairngorm National Park along the way
Itinerary:
Leaving Edinburgh
We leave Edinburgh at 8am, driving past Edinburgh Castle as we exit the city. It's about 165 miles to get from Edinburgh to Loch Ness and our journey will take us past some amazing locations along the way! The roads that lead to the Scottish Highlands take us past some important sites, including Linlithgow Palace and Stirling Castle. We even pass the point where two Scottish legends, William Wallace and Robert the Bruce, defeated the English armies back in 1297!
the Highlands
The "Highlands" is the name given to the breathtaking countryside of Northwest Scotland. This is where Loch Ness is located and is the land that makes Scotland so famous, with mind-blowing scenery that has inspired generations of travellers.
Our drive into the Highlands takes us through Loch Lomond and the Trossachs National Park. This region was once the frontier of the Roman Empire and the scene of infamous battles. You might even get to meet a traditional Scottish Cow along the way, nicknamed a Hairy Coo 🙂
Amazing Views
We'll drive along windy county roads, past Scottish farmland and through sweeping valleys on this magical journey into the Highlands. Your expert guide will explain the long history of these lands, which are inhabited by the clans (Scottish tribes) of McNab and Cambell.
Get your camera ready! This is a land full of tall mountains, dramatic waterfalls, lochs and more! You might even see some more Highlands Cows, which are raised by Scottish farmers for their premium quality beef.
The Valley Of Glencoe
From here, we continue the drive into Glencoe Valley. This is probably the most famous and iconic view in the highlands, and was used in the filming of several Harry Potter movies and the James Bond movie "Skyfall". A famous massacre took place here in 1692, and the site has become an important part of Scottish legend.
Spectacular, unbelievable and amazingly beautiful, we'll stop here to admire it all! We'll then drive past Ben Nevis, the tallest mountain in Britain as we arrive at Loch Ness!
Loch Ness
Welcome to Loch Ness, home to the legends of the Loch Ness monster!
We'll spend around 2 hours by the shores of the Loch, with plenty of time to try and spot Nessie! In fact, the first recorded sighting of the Loch Ness monster was in 565 AD, and thousands of visitors have come Nessie Hunting ever since. And while many people have claimed to have seen a monster, others are less convinced, calling it a hoax or a trick of the light…. we'll leave it for you to make up your own mind 🙂
Your time at Loch Ness:
We stop at the small town of Fort Augustus, which lies at the tip of Loch Ness. You'll have around 90 minutes to explore Loch Ness, with several things to do:
Have lunch, with lots of cafes and restaurants in Fort Augustus
Go on a boat cruise which sails into the heart of the Loch
Walk along the shores of the Loch and enjoy the beautiful Scottish countryside
See the impressive Caledonian Canal, which runs through the centre of Fort August Village
Return to Edinburgh
At this stage of our Loch Ness tour, we'll begin our return home. We'll drive into Cairngorm National Park, an area of outstanding natural beauty known for its distinct wildlife, including red squirrels, red deer, and golden eagles! We'll make a stop for refreshments along the way at the Victorian town of Pitlochry.
Our return to Edinburgh takes us alongside the Forth Rail Bridge, the oldest metal bridge in the world and a UNESCO World Heritage Site. We'll arrive back in Edinburgh at around 8:30pm, after an amazing day trip to Loch Ness & the Highlands!
This route may be reversed on some occasions.
Loch Ness Tour from Edinburgh:
The tour lasts approximately 12.5 hours
Tour Check-in: 7:45am
Departure: 8am
Return: 8:30pm
Departure & return point: Deacon's House Cafe, 304 Lawnmarket, Edinburgh, EH1 2PS.
Tour Includes:
Transportation in a luxury, modern, air-conditioned coach
A friendly tour guide
Not Included:
Entrance fees and guided tours of the attractions
Food & drink
Important information:
Please bring cash to pay for optional extras, food & drink. Most villages do not have an ATM machine
Please bring warm waterproof clothing & comfortable shoes
Occasionally, the Loch Ness cruise is unavailable
Very occasionally, we may alter the itinerary due to circumstances beyond our control

Free cancellation:

Cancel up to 24 hours in advance to receive a full refund
The Best Loch Ness Tour…
And finally…we know that there are lots of Loch Ness tours to choose from. So what makes this the best tour from Edinburgh?
All our tour guides are passionate, friendly, and love what they do!
terms and conditions
Booking is subject to
terms and conditions
of the tour operator. All passengers are advised to arrange travel insurance.