Liverpool Day Trip from London - By Rail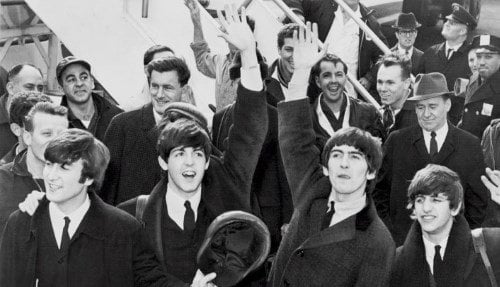 Our Liverpool day trip from London by train is the ultimate way to explore the city in a day. Our Liverpool sightseeing package includes return train tickets from London, a Beatles Magical Mystery

Available Every Day from £

169

per Person

See the Beatles hometown!

no hidden fees
Our Liverpool day trip from London by train is the ultimate way to explore the city in a day. Our Liverpool sightseeing package includes return train tickets from London, a Beatles Magical Mystery Tour and entry tickets to the Beatles Story & Cavern Club. This day trip is perfect for Beatles fans who wish to explore the city that made them famous.
What to expect:
Travel to Liverpool:
Our Liverpool package includes return train tickets from London. Arrive at London Euston Station at 6:45am for a 7:07am train departure (7:03am departure on Saturdays). You'll arrive in Liverpool at 9:21am.
The Beatles Story
Liverpool is the ultimate pilgrimage site for Beatles fans, since it's here that the band members grew up, formed and made their name.
We suggest starting your day with a walk to Matthew Street, where you can visit the Beatles Shop and Matthews Street Gallery. You could also walk to the UNESCO Royal Albert Dock.
Visit the Beatles Story, with tickets booked for 11am entry. The Story takes you back to the glory days of the Beatles, with amazing items on display from the life and works of one of the greatest groups of all time. This includes recreations of key places including Abbey Road Studios, Hamburg, America and lots more. There's even Ringo Star's drum kit on display, as well as John Lennon's spectacles and original handwritten lyrics.
Magical Mystery Tour
We'll continue the Beatles Theme with a Magical Mystery Coach Tour, lasting 2-hours! Your tour is booked for 2pm. Travel on a branded Magical Mystery bus (subject to availability) as you see all the sites associated with the Beatles in Liverpool. You'll stop for photos outside the George Harrison's birthplace, the childhood homes of Ringo, John & Paul, and the former schools. We'll get off the bus at Strawberry Field & Penny Lane.
The Cavern Club
The tour ends at the Cavern Club, probably the most famous club in the world. Our package includes entry, and its here that you can see the crown jewel of British pop music. Hear some live music every afternoon!
There will also be some more time for more sightseeing and shopping. The Cavern Club is just a short walk from Liverpool Waterfront, the UNESCO Royal Albert Dock as well as Liverpool One shopping centre.
FAQ:
Here are some frequently asked questions about our Liverpool day trip from London.
Can You do a Day Trip from London to Liverpool?
Yes! Your train arrives in Liverpool at 9:21am (9:20 on Saturdays), and the train departs back to London at 6.48pm. This gives you a good amount of time to explore Liverpool (over 8 hours of sightseeing time). So that's a full day to soak up the atmosphere and see the sites.
How Long is the Train Journey from London to Liverpool?
The train journey takes around 2 hours 15 minutes each way. So that's about 4.5 hours in total spent on the train.
Can i upgrade my train tickets?
Yes, on the booking form we offer three different classes of train tickets.
With the premium-class tickets, you will get a guaranteed table seat with extra leg-room.
With first-class tickets, you'll have access to the first-class lounge, as well as complimentary refreshments and food served at your seat (including alcohol). The ticket also includes a guaranteed table seat with extra leg-room.
How Long is the Beatles Tour in Liverpool?
The Magical Mystery Bus Tour lasts around 2 hours, with photo stops along the way.
Included:
Return train tickets with reserved seats
2-hour Beatles Bus Tour – Magical Mystery
Entry tickets to The Beatles Story
Admission to The Cavern Club
Excluded:
Hotel pickup & dropoff, tour guide, food, drink
More info:
This tour is non-refundable once booked
Make sure to print all the tickets on your email confirmation form
Tour Booking
TOUR OPTION
AVAILABILITY
CHOOSE
Child (age 4-11)
Every Day
£159
no hidden fees
terms and conditions
Booking is subject to
terms and conditions
of the tour operator. All passengers are advised to arrange travel insurance.