Highclere Castle & Downton Abbey Tour - Small Group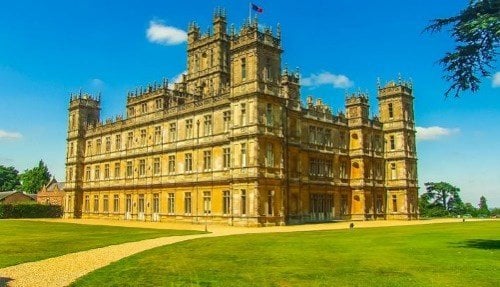 Our Highclere Castle & Downton Abbey tour departing from Central London or Oxford takes you to the real-life locations used in the filming of the TV show. Spend the morning visiting Cogges Farm
Available on Selected Dates from £
189
per Person
See the real-life Downton Abbey!
Our Highclere Castle & Downton Abbey tour departing from Central London or Oxford takes you to the real-life locations used in the filming of the TV show. Spend the morning visiting Cogges Farm and Bampton, two important locations that featured extensively in Downton Abbey. Your passionate guide will point out key scenes that took place at these sites, as well as sharing lots of stories from the making of Downton Abbey. In the afternoon, soak up the elegance and grandeur of Highclere Castle. This is the real-life Downton Abbey, where you'll be able to view the magnificent aristocratic rooms and beautiful gardens that make up the estate.
Our Highclere Castle and Downton Abbey tour is led by an experienced tour guide and is available from London and Oxford on selected dates throughout the year. This is a small group tour with a maximum of 18 passengers per group.
This tour is fully refundable and amendable up until 14 days before travel.
Highclere Castle & Downton ABbey Highlights:
Cogges Farm
Our Highclere Castle and Downton Abbey tour begins with pickup from three convenient locations in London or from Oxford. Hop onboard our 18-seater minibus and meet your friendly tour guide as we drive out of the city and into the English countryside.
Our first stop is to Cogges, better known as Yew Tree Farm where the Grantham Family live. This is a period farm that was one of the most authentic locations used in the making of Downton Abbey. Nothing much has changed here over the years, and it really feels like stepping back into a farm from the 19th Century. You'll get to see the manor house kitchen and farm buildings that featured in the storyline. We will also walk through the orchard and see the farm animals.
Enjoy exclusive private access! Cogges Farm opens early for our customers giving us private access before they open to the public, therefore missing the queues and crowds!
Following your guided tour, you will have some free time to explore as well as watch a short movie where the Downton Abbey producers talk about their time filming at Cogges.
English Countryside
From Cogges we continue our Downton Abbey tour with a drive into the heart of the English Countryside. This region is known as the Cotswolds, a protected landscape and area of outstanding natural beauty. Our small minibuses are perfect for driving along the narrow and twisty country lanes, taking you to places that larger coaches cannot get to!
We will make a short stop at Shilton, a beautiful village which featured briefly in series two. It's here that Mr Bates went to work after he left Downton Abbey. We will also pass the village of Swinbrook, where Lady Sybil and Tom Branson spent the night on their aborted elopement.
Bampton
Our next stop is Bampton, better known as Downton Village. We'll do some Downton Abbey "sightseeing", with your guide taking you to the key filming sites. Highlights include the church, graveyard, village green, Mrs Crawley's House, Cottage Hospital and post office. You will then have some free time to explore this unspoilt and picturesque English village. There is a charming little tea shop where you can have a cup of tea, or enjoy some scones or homemade cupcakes. Nearby lies an antique shop, village library and you can even enter inside the church.
Highclere Castle
The afternoon is spent at Highclere Castle, the highlight of our Downton Abbey tour! The castle is home to George Reginald Oliver Molyneux Herbert, 8th Earl of Carnarvon. We'll spend the afternoon exploring the castle, Egyptian exhibition and gardens. Downton Abbey fans love seeing the locations where favourite characters made their star appearances, from Robert Crawley and Lady Mary to Edith and Matthew. Highlights include the State Rooms, dining room, and grand staircase, as well as walking through the spectacular gardens! There are also several tea rooms on the estate serving delicious food and drink.
Itinerary:
07:15: Pickup from outside the British Museum (Great Russell Street)
07:30: Pickup from Marble Arch (outside the Hard Rock Hotel)
07:45: Pickup from outside Holiday Inn Kensington Forum (97 Cromwell Road)
09:15: Pickup from outside Blackwells bookshop/White Horse pub 48 – 51 Broad Street. At the end of the tour, you will be returned to Oxford by taxi
09:30: Visit Cogges Farm, the location of Yew Tree Farm in the Downton Abbey Series
10:30: Pass Shilton and Swinbrook, two delightful villages that feature in the show
11:30: Head to Bampton, the location of Downton Village in the TV series
12:00: Drive through the English countryside to Highclere Castle
13:00: Arrive at Highclere Castle, the real-life Downton Abbey!
16:00: Leave Highclere Castle, arriving back in London at approximately 18:30
Special Event Week – 10-16 May 2023
The Highclere Special Event Week; "Castle Tours and Wonderful Things Tours & Talks 2023" takes place from 10-16 May 2023. During these dates your tour includes a talk, a guided tour of the Castle State Rooms, the Galleried Bedrooms, the Egyptian Exhibition and a copy of Lady Carnarvon's latest book "The Earl and the Pharaoh".
More info:
The tour includes entrance fees, transportation and a tour guide
This is a small group tour, with a maximum of 18 people per group
The tour does not include any food or drink
The tour ends at London Victoria Train station or Oxford
Masks and hand sanitiser products are available to all guests
Fully refundable and amendable up until 14 days before travel, with flexible booking guarantee! You can view the booking conditions during the booking process, prior to confirmation of any booking
If you cannot find tickets available on your travel date, please have a look at our other Highclere Castle Tours
terms and conditions
Booking is subject to
terms and conditions
of the tour operator. All passengers are advised to arrange travel insurance.