Hadrian's Wall Tour from Edinburgh - 1 Day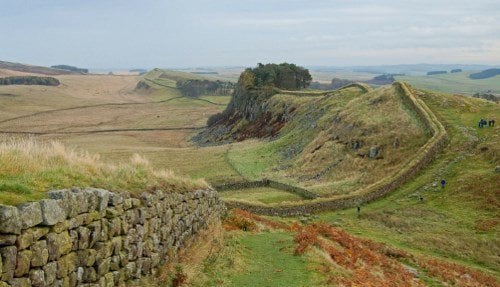 Our Hadrian's Wall Tour from Edinburgh takes you to one of the most impressive fortifications of all time. Built by the Roman Empire, it is today recognised as a UNESCO World Heritage Site.

Available Every Day from £

59

per Person

Small Group Tour

no hidden fees
Our Hadrian's Wall Tour from Edinburgh takes you to one of the most impressive fortifications of all time. Built by the Roman Empire, it is today recognised as a UNESCO World Heritage Site. Highlights of the trip include a drive through some of the most beautiful Scottish countryside and a visit to an ancient market town. We will visit several sections of Hadrian's Wall, including one of its best-preserved forts. The tour includes an experienced tour guide, with transportation in a small group 16-seater minibus. Our Hadrian's Wall Tour is available every day from Central Edinburgh.
Update: This tour is now running. You can see COVID-19 policy on the book now page.
Highlights:
Depart Edinburgh along Deere Street, a Roman street that connected parts of England with Scotland, and passed through Hadrian's Wall
Visit Jedburgh, a market town on the England-Scotland border. This is the historic gateway to Scotland, and you'll have time for a walk through the town centre. This includes seeing the ruins of the 12th Century Augustinian Abbey.
Stop at the Carter Bar viewpoint, which was the scene of one of the last large-scale battles between the English and the Scots
Continue the drive through the stunning forests of Northumberland National Park
Head along the road that takes us to the south side of Hadrian's Wall, stopping at Steel Rigg. This is one of the best viewpoints, which enjoys spectacular views of the wall
After pausing for lunch, travel to Birdoswald Roman Fort. This is one of the best preserved Roman forts, and learn more about how the Wall was constructed along the England-Scotland border, including its main features.
You'll have further time to explore parts of the wall or the remains of the Roman settlements before starting the journey back to Edinburgh
Return to Edinburgh, this time travelling through the Galloway hills, stopping in the Victorian spa town of Moffat and enjoying magnificent countryside views along the way.
More info:
Tour includes:
An experienced driver/guide
Transportation in a 16-seater air-conditioned minibus
Tour excludes:
Timings:
Tour departs at 8:15am from 6 Waterloo Place, Edinburgh, EH1 3EG
Tour returns at approximately 7pm
It's recommended to bring comfortable clothes for walking
This is a group tour but can be customized and taken privately for families or groups.
click here to request a private tour price quote
About Hadrian's Wall
Hadrian's Wall was built by the Romans to stop invading Scots attacking Northern England, which was one of the outer borders of the Roman Empire. It took over ten years to construct and is the only Roman Frontier which runs from coast to coast. It's considered an incredible engineering feat, stretching for 73 miles across English terrain. Much of the wall still exists and has been designated a UNESCO World Heritage site for future generations to enjoy. Visitors can tour the extensive remains of the walls, as well as the many Roman fortifications as well as gates that were used to allow trade between England and Scotland. There are many Roman artefacts dating from this period on display in visitor centres.
The surrounding English and Scottish countryside make for a wonderful place to visit from Edinburgh. Combine a visit to one of the most important archaeological sites in Britain with breathtaking and charming little nearby towns.
terms and conditions
Booking is subject to
terms and conditions
of the tour operator. All passengers are advised to arrange travel insurance.