Canterbury & Leeds Castle Tour from Dover to London
Our Canterbury and Leeds Castle tour from Dover to London and Heathrow Airport is perfect if you are looking to turn your transfer into a fun day trip! The tour is carefully coordinated with cruise
Available on Selected Dates from £
129
per Person
Central London Hotels or Heathrow Drop-off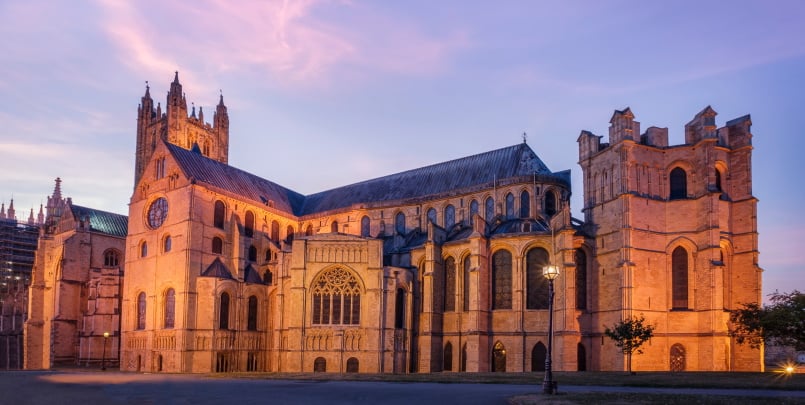 Our Canterbury and Leeds Castle tour from Dover to London and Heathrow Airport is perfect if you are looking to turn your transfer into a fun day trip! The tour is carefully coordinated with cruise ship arrival times, and we will pick you up outside Dover Cruise Terminal. The tour includes a tour guide, with transportation in a luxury coach. Begin the day with a visit to Canterbury, a beautiful town famous for its Cathedral. After a walking tour, and free time to explore, we will continue to Leeds Castle, one of the UK's most stunning medieval fortifications.
Our Canterbury and Leeds Castle tour is available on selected dates throughout the year and is also available as a private tour on most days.
Highlights:
Depart Dover Cruise Terminal on a trip to London, with visits to Canterbury and Leeds Castle along the way!
Drive past the magnificent English coastline, including a view of the White Cliffs of Dover
Arrive at Canterbury, a beautiful town that was built by the Romans. Enjoy a guided walk of the town centre which is situated on the River Stour and features cobbled streets and old Tudor buildings. There'll also be time to visit one of the cafes or restaurants.
Optional visit to Canterbury Cathedral, a World Heritage Site that is the cradle of Christianity in the UK, and is where the Archbishop of Canterbury sits, the leader of the Anglican Church in England. Canterbury Cathedral was founded in 597 AD, when St Augustine, was sent by Pope Gregory the Great to reintroduce Christianity to England. The current building dates from 1070 AD with additions being made over the following centuries.
From here, we'll drive through the region, known as the "Garden of England". We'll pass orchards, vineyards, old houses, and hop fields
Arrive at Leeds Castle, complete with palatial rooms, a stunning lake, a maze garden, and vast landscaped gardens. It has been the home to British aristocracy and the location for many Hollywood films and TV series.
We depart Leeds Castle mid-afternoon, dropping off in London at your hotel, or at Heathrow Airport.
Timings:
If your ship is delayed, we will wait! (applicable only to the listed ships we service).
Carnival, Princess, Crystal & NCL
08:00: Meet your guide outside of the terminal building
08:30: Depart Dover
We will spend approximately 2-2.5 hours at Canterbury, and 3 hours at Leeds Castle
17:30-18:00: Drop off available at all Central London hotels and train stations. If you need to reach Gatwick or Stansted airport, there are buses and trains from Victoria train station.
18:00-18:30: Drop off at Heathrow airport hotels and terminals. We would not recommend our tour for flights departing Heathrow before 21:30
On arrival in London, we sometimes use additional vehicles to drop off passengers at their final destination.
*If you are travelling on a ship that is not listed on our booking page, please contact us to see if we can accommodate you on the tour.
More info:
The tour includes a tour guide, transportation in a luxury air-conditioned coach and entrance fees to Leeds Castle
The tour does not include entrance fees to Canterbury Cathedral, food/drink or gratuities (which are optional)
Book with Confidence
Fully refundable and amendable up until 7 days before travel, with a flexible booking guarantee! You can view the booking conditions during the booking process, prior to confirmation of any booking
If your cruise ship cancels for any date in 2023 we will immediately offer a change of date or a full refund, whichever you prefer
If the UK reintroduces lockdown or quarantine measures, we will immediately offer a change of date or a full refund, whichever you prefer
terms and conditions
Booking is subject to
terms and conditions
of the tour operator. All passengers are advised to arrange travel insurance.