Buckingham Palace & Royal London Tour - 1 Day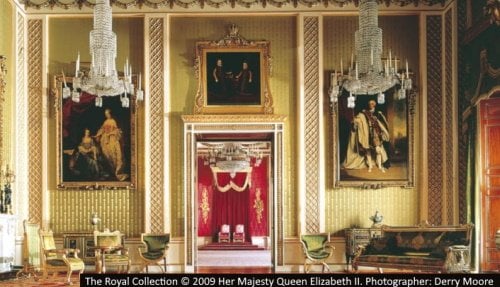 Our Buckingham Palace & Royal London Tour visits the State Rooms at Buckingham Palace with special timed entrance tickets. We'll see where Princess Diana and Prince Charles got married at St Paul's Cathedral,

Selected Dates from £

63

per Person

From 23 July - 1 Oct 2022

no hidden fees
Our Buckingham Palace & Royal London Tour visits the State Rooms at Buckingham Palace with special timed entrance tickets. We'll see where Princess Diana and Prince Charles got married at St Paul's Cathedral, watch the colourful Changing of the Guard Ceremony outside Buckingham Palace and enjoy a fast-paced panoramic bus tour of Royal London. Feel like a king and queen on our Buckingham Palace & Royal London Tour, available in July, August & September 2022
Highlights
Panoramic Bus Tour
We'll begin the day with a panoramic bus tour of Central London. Our entertaining tour guide will reveal secrets of Royal life in the Capital, as you pass lots of iconic landmarks along the way!
St Paul's Cathedral
We'll stop at St Paul's Cathedral, one of London's architectural masterpieces. You'll get to go inside one of the worlds most impressive Cathedrals, and admire the incredible dome which is the second largest in the world. Enjoy spectacular views from the Golden Gallery, located 28 steps from the Cathedral floor. From here you can see the River Thames, Tate Modern, and Shakespeare's Globe Theatre. St Paul's Cathedral has also played an essential part in Royal History, and this was the place where Princess Diana married Princess Charles.
Changing of the Guard Ceremony
We'll watch the magical Changing of the Guard Ceremony that takes place in front of the gates of Buckingham Palace. You'll instantly recognize the royal guards, with their red coats and fuzzy bearskin hats and will be totally charmed by the pomp and circumstance of the ceremony! There's nothing quite like it!
Buckingham Palace State Rooms
We'll go to Buckingham Palace to visit the State Rooms, which is only open to the public during the summer months of 2022. You'll get to explore lavish rooms that are used by the Queen and Royal Family for official ceremonies. This includes the Ballroom and Throne Room. Catch a glimpse of royal life and enjoy the extraordinary artwork and furnishings.
Schedule:
Departure point: Bus Stop 1 Bullied Way, Buckingham Palace Road, London SW1W 9SH
Check-in to your tour at 07:30am with departure at 08:00am
Return from the morning tour to Bullied Way Victoria at approximately 12:00pm. You will have around 30 minutes to grab some refreshments
Afternoon meeting time: 12:30pm at Bullied Way
Leave for Buckingham Palace at 12:45pm from Bullied Way stop 3.
Entry time to Buckingham Palace: 1:15pm
Your tour ends at Buckingham Palace (your visit is self-guided)
More Details:
Tour includes:
Transportation and a tour guide
It includes entry to St Paul's Cathedral, timed entrance to Buckingham Palace State Rooms and a panoramic bus tour
Tour excludes:
It excludes food, drink, gratuities
Please note:
On Sundays, there will be no guiding inside the Cathedral due to church services
If the Changing of the Guard Ceremony is not available, we will visit nearby Horseguards Parade, a parade ground used for Royal events.
Once booked this tour cannot be cancelled
Tour Booking
TOUR OPTION
AVAILABILITY
CHOOSE
Senior/Student
Selected Dates
£60
Child (3-16)
Selected Dates
£58
Family (2 adults & 2 kids)
Selected Dates
£237
no hidden fees
terms and conditions
Booking is subject to
terms and conditions
of the tour operator. All passengers are advised to arrange travel insurance.