3 Day Scotland Tour from London
Our 3 day Scotland tour from London takes you to the best of the region including Edinburgh, the Scottish Highlands and Loch Ness. Highlights of the trip include seeing the dramatic countryside in
Available on Fridays from £
379
per Person
Visit Edinburgh, Highlands & Loch Ness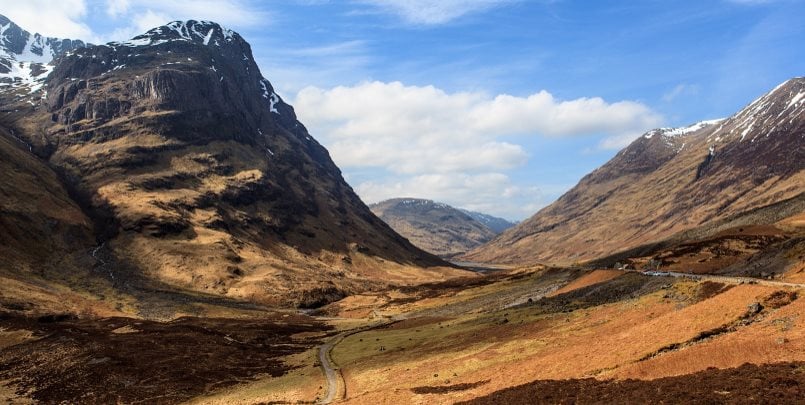 Our 3 day Scotland tour from London takes you to the best of the region including Edinburgh, the Scottish Highlands and Loch Ness. Highlights of the trip include seeing the dramatic countryside in the Northern region of Scotland, visiting an iconic Whisky distillery, exploring the city of Edinburgh, admiring Loch Ness and more. It includes 2 nights accommodation with breakfast and is led by an experienced tour guide. The tour is available on Fridays starting and ending in Central London.
This tour is currently unavailable. However, we do have a 2 or 3 day Edinburgh tour from London which might be of interest. 
tour highlights & itinerary
Day 1:
06:15 Make your own way to King's Cross Station (You will board the train and travel to Edinburgh independently)
07:00: Depart King's Cross on a high-speed train with reserved seating, arriving in Edinburgh at 11:20am
 Meet your local guide at the platform on arrival in Edinburgh. Enjoy a sightseeing bus tour of Edinburgh, passing iconic sights like Holyrood House, Edinburgh Castle and the Royal Mile
Check-into hotel in the early afternoon
Free time in the afternoon to explore the city
In the evening, join our guide in a historic Scottish pub or choose to take a ghost tour to the city's most haunted places (cost is extra)
Overnight in Edinburgh
Day 2:
Breakfast in hotel
Join our Loch Ness & Highlands Tour into the rugged landscapes of the north (cost is extra)
Depart Edinburgh and head into the dramatic Scottish highland countryside, passing mountains and valleys and seeing the local wildlife
Stop to see the dramatic views at Rannoch Moor
Enjoy a boat cruise along Loch Ness and look out for the monster!
Visit the ruins of Urquhart Castle which overlooks Loch Ness
See the site of Glencoe, where a legendary battle once took place
Return and overnight in Edinburgh
If you choose not to join our Loch Ness & Highlands Tour, you will have a free day to spend in Edinburgh
Day 3:
Begin the day with a free morning to explore the city
Popular choices include visiting National Museum of Scotland (entry is free) or Edinburgh Castle (approx £20 per person).
14:30: Depart Edinburgh by train, arriving in London at 20:27
Please note, timings are subject to change
more info:
The basic tour includes transportation to and from London, 2 nights accommodation, breakfast and a guided tour of Edinburgh
You can choose to add onto the basic option a Haunted Ghost Tour of Edinburgh and a Loch Ness & Highlands Day Tour
The Loch Ness & Highlands trip is not available for children under the age of 4
At the end of your 3-day Scotland tour you will return to London. It's also possible to extend your stay in Edinburgh and you can contact us for further information
accommodation:
The basic price of this tour includes 3* twin room accommodation, sharing with other members of the tour (same sex). Breakfast is included
You can choose to upgrade to a single room for 1 person at an extra cost. You can add a single room to the booking on our book now page
We can also arrange family rooms or accommodation in 4* or 5* hotels. Please contact us for prices.
Loch Ness & Highlands Trip
Our Loch Ness & Highlands trip is a great addition to your 3 Day Scotland tour from London. You'll leave Edinburgh and head into an area of rugged and wild Scottish countryside known as The Highlands. Take in the spectacular scenery and wildlife as we head towards Loch Ness. We'll stop at iconic locations including Glencoe. This dramatic site has been used as a filming location in Harry Potter and James Bond films. Loch Ness is one of the most famous places to visit in Scotland and home to the legends of Nessie the Loch Ness monster. Enjoy a boat cruise along the cruise where you can take in this spectacular landscape, followed by a visit to the ruins of Urquhart Castle.
Edinburgh
Edinburgh is the capital of Scotland and is where you will find the Scottish parliament. Our 3 Day Scotland Tour gives you the flexibility to explore as much of Edinburgh as you want. The formal side of the package includes a panoramic sightseeing tour of the capital where you will get an overview of the city. You will also have free time to explore the city on day 3, and the whole of day 2 if you decide not to join the Loch Ness & Highlands trip.
Edinburgh is a very beautiful city with impressive architecture and a vibrant nightlife. Highlights include the Royal Mile which is the main street in the Old Town and nearby Grassmarket, the historic marketplace. Edinburgh Castle is one of the most visited attractions which dominates the skyline. It is home to the Scottish Crown Jewels (the Honours of Scotland) and the Coronation Stone.
Our Scotland tour also includes an option to visit the Glenkinchie Whisky Distillery. Whisky is Scotland's national drink and there are 120 active distilleries located across Scotland. This distillery is conveniently located 15 miles from the capital, and you'll learn how their 'water of life' is made and see the distillery production area. You'll also get the chance to taste a wee drum. 
terms and conditions
Booking is subject to
terms and conditions
of the tour operator. All passengers are advised to arrange travel insurance.