Tours & Activities in London with Kids
The best tours and activities to do in London with kids. From Harry Potter studio tours and walking trips, to speed boat rides along the River Thames and football stadium visits, there are plenty of ways to keep the kids (and yourself!) smiling 🙂
harry potter studio tour
Discover witches and wizards on a visit to Harry Potter Land, better known as the Harry Potter Warner Bros Studio Tour. Go behind-the-scenes and see how the movies were made, with real-life versions of the Great Hall, Diagon Alley, Hogwarts Express on display! Kids can even ride a broomstick and drink a butterbeer on a visit to the most popular tourist attraction in the UK.
Suitable for all ages
The studios are located about a 1-hour drive from Central London
Book in advance as tickets get sold out!
Average visit length: 4 hours
Average travel time to and from the Studios: 2.5 hours
Tickets: Harry Potter Studio Tour >>>
kidzania!
Take your kids to spend 4-hours exploring this child-sized city! Children get to choose to act out a number of real-life activities from being police officer and firefighter to an actor or dancer. This is a fun and educational way for kids to experience the adult world. They'll earn kidZos (Kidzania money) which they can then spend on a range of fun activities, or even open a Kidzania bank account! There's even a dedicated adult area where you can sit back and relax whilst your children play, supervised by a team of dedicated helpers.
Suitable for ages 4-14 (there's a separate toddler area as well)
Opening times: Times vary according to the day
Visit time: 4 hours
Tickets: Kidzania >>>
boat ride along the river thames
A great way to spend an afternoon in London with kids is to take a boat ride along the River Thames. There are lots of different types of rides, from classic boat cruises to a 50 minutes thrilling speed boat tour and a 2-hour sunset cruise!
shrek's adventure:
Enter the magical world of Shrek on a thrilling interactive experience. After hopping onboard the magical 4-D Shrek bus you'll get to see all of the most memorable characters from the films including Cinderella and Pinocchio. Pass through 12 fairytale-themed live shows that make you feel like you are actually inside the Shrek fantasy world before ending with a series of photo stops and interactive activities!
Suitable for ages 3-12
Opening times: Every day, with extended hours on the weekend
Average visit length: 1 hour
Ticket: Shrek's Adventure >>>
football stadium tours
Go behind the scenes and take a tour of one of London's premier league football clubs. See the stadium, walk down the player's tunnel, sit in the conference room and visit the museum's at Chelsea or Arsenal. You can also visit Wembley Stadium which is the home of the England national football team and Tottenham football club. Alternatively, take a tour of the Olympic Stadium, used in the London 2012 Olympic Games, and currently the home of West Ham football club.
Suitable for all football lovers – kids and adults!
Available every day at multiple entrance times
Tour duration: 60-90 minutes
Tickets: Football Stadium Tour>>>
Walking Tours
A great way to experience London is by taking a themed walking tour of the city. We've come up with a few of the most popular themed walking tours in London with kids.
Harry Potter London Sights
Discover the London sights used in the filming of the Harry Potter movies. See real-life places like the entrance to Diagon Alley, the Leaky Cauldron and the bridge that was destroyed in Harry Potter and the Half Blooded Prince
Doctor Who London Walking Tour
See the famous London locations used in the TV series "Doctor Who". You'll get to see where the Doctor rode an anti-gravity motorbike up London's tallest building, where the Cybermen invade London in Dark Water and Death in Heaven, and more!
Sherlock Holmes London Walking Tour
Can you solve the mystery? Follow in the footsteps of England's greatest detective as you visit some of the legendary London locations from the Conan Doyle books.
Paddington Bear Walking Tour
Calling all Paddington Bear fans! Follow in Paddington's paw steps on the Official Tour where you'll get to explore some of London's neighborhoods and locations that have featured in over 20 books, as well as several movie locations from both films.
Mary Poppins London Walking Tour
Learn about everyone's favourite nanny on this Mary Poppins London walking tour! You'll get to see where Mary Poppins Returns was filmed on a magical trip through the City of London.
Windsor castle
Windsor Castle is the oldest inhabited castle in the world, home to the Royal Family for almost 1,000 years! The perfect place to take the kids, there's plenty to explore including the castle interiors and sweeping grounds. See St George's Chapel where Prince Harry and Meghan Markle got married, watch the Changing of the Guard ceremony and visit Queen Mary's Dollhouse, the largest and most famous dollhouse in the world. There's even a special kid-friendly audioguide available to keep the little ones happy.
Suitable for all ages
Average visit length: 2-3 hours
Tickets: Windsor Castle >>>
Windsor Castle is located about 20 miles from Central London and our morning shuttle bus is the perfect way to get there!
*Sometimes the castle is completely closed, so check before planning your visit
legoland®
The ultimate theme park for younger kids with over 55 amazing rides and attractions to explore! Drift between the many different theme lands including the worlds of Knights, Pirates, Vikings and Pharaohs. Attraction highlights include the Lego reef, Star Wars model, and fire academy.
Suitable for ages 3-12
Average visit length: 5 hours
Average travel time to and from Legoland®: 2 hours
Average visit length: 4 hours
Tickets: Legoland >>>
Legoland® is located about 25 miles from Central London, and our shuttle bus is the perfect way to get there!
tunnel slide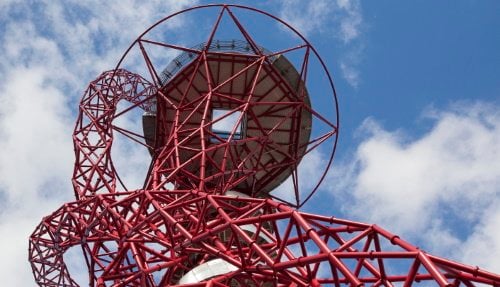 Take a ride on the world's highest and longest tunnel slide! The ArcelorMittal Orbit slide is located in the Queen Elizabeth Olympic Park which was the centre of London's 2012 Olympic Games. Start by admiring the incredible London views from the viewing platform before taking the 40-second ride to descend the 178-meter long tunnel as you travel at speeds of up to 15mph!