Top 10 Castles & Palaces in England
England has no shortage of castles and palaces, especially given its very small size. In fact, one of the nations favourite pastimes is to visit the vast number of spectacular heritage sites dotted around the country. Our pick of the top 10 castles and palaces in England lists some of the all-time classics as well as some of the more quirky and unusual choices.
1. Windsor Castle:
Windsor Castle is the oldest inhabited castle in the world! At nearly 1,000 years it is an official residence of the British Royal Family, and is often used and lived in by the King. No visit to the United Kingdom would be complete without a stroll around the castle including its state rooms, chapel and dolls house that make up this impressive display of British history and heritage.
2. Blenheim Palace: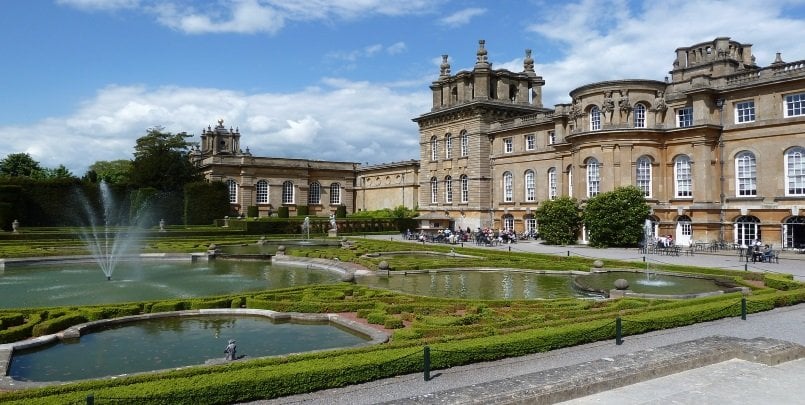 Blenheim Palace is one of Britain's most impressive palaces. If first impressions are anything to go by, then the imposing and flamboyant landscaped gardens will blow you away! The inside of Blenheim Palace equally doesn't disappoint with impressive state rooms and lavish furnishings. The palace was in fact the birthplace of the great Winston Churchill and there's an exhibition showcasing Churchill's connection with the palace.
Tour of Blenheim Palace: Click here
3. Leeds Castle:
Once described as the loveliest castle in the world, this fairy tale castle is surrounded by a moat and landscaped gardens. Located in Southern England, 40 miles from London, Leeds Castle dates back over 900 years and includes extensive grounds, gardens, a moat, a rampart and several towers. You can visit it on our day tour of Southern England from London.
4. Hampton Court Palace
Just a 30 minute ride from Central London, Hampton Court Palace is a pristine example of British Tudor architecture. 60 acres of gardens are combined with an impressive artwork collection and grand royal rooms. Its certainly one of the top castles and palaces to visit from London and is a great day out for all the family.
5. Buckingham Palace
The London residence and administrative headquarters of the King of the United Kingdom. Every day, visitors from all over the world line up outside the Palace gates to watch the changing of the guard ceremony, an impressive display of the British monarchy. The Palace is open during the summer months to visitors, who can view the impressive state rooms and take a tour of the extensive landscaped gardens. Don't miss the Changing of the Guard Ceremony that takes place outside Buckingham Palace which you can view as part of our London sightseeing day tour.
6. Chatsworth House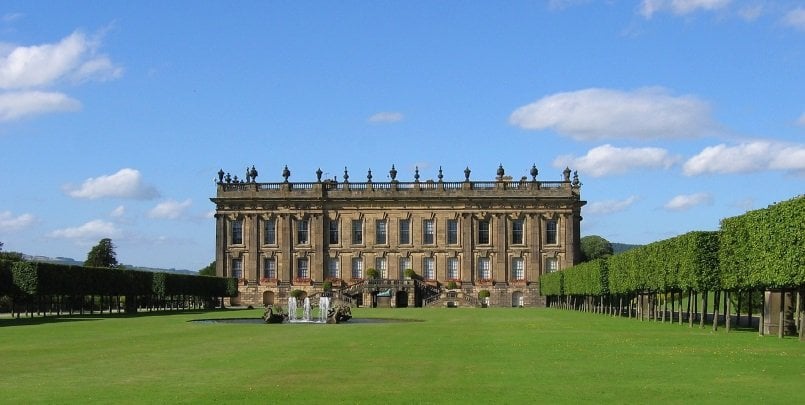 Number 6 of our top 10 castles & palaces in England is the country estate of Chatsworth House. Officially the home of the Duke of Devonshire, this grand house is set in the Peak District which is one of the most beautiful regions of the UK. The house includes impressive paintings by da Vinci and Rembrandt and many grand rooms filled with lush furnishings and decor.
7. Warwick Castle:
Warwick Castle is a perfect day out for the family and one of the finest medieval English Castles. This impressive 1,000 year old castle has been re-imagined as a kind of adventure playground for kids with loads of activities for all the family. There's a maze, a dungeon, and plenty of towers to climb.
8. Bodiam Castle
For those looking for an off-the-beaten path castle to visit then this one might just be for you. In terms of dramatic settings it doesn't get more impressive than Bodiam! This castle moat was built in the 14th Century to defend the area against a French invasion and has been carefully restored in recent years, with plenty of fascinating rooms to explore. Given its remote location, Bodiam Castle is best reached by car, although there are a few transportation options that will get you there… eventually!
More info: Click here
Private Tour: Click here
9. Tintagel Castle
For those who like myths and legends this is the castle for you! King Arthur's legends are closely connected to Tintagel. The story goes that it was here that Arthur was conceived and he would of course later go on to be a legendary warrior renowned for his extraordinary bravery.
10. Stay in a Castle
Don't just visit a castle, but stay in a castle! There are lots of castles and country houses that have been converted into luxury hotels. Many of these are located within driving distance of London and are an amazing way to experience the life of a king or queen!