The Beatles Story Entrance Ticket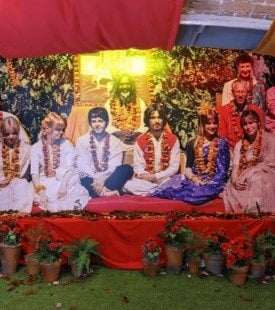 The Beatles Story is the major exhibition in Liverpool exploring the life and history of the Fab4. This is a must-see for any Beatles fan, containing the largest collection of Beatles items in

Discover the Fab4!

no hidden fees
The Beatles Story is the major exhibition in Liverpool exploring the life and history of the Fab4. This is a must-see for any Beatles fan, containing the largest collection of Beatles items in the world. A typical visit lasts between 1-3 hours, and entrance tickets give you access to the main exhibition and discovery zone. The museum also contains a Beatles-themed cafe and gift shop.
The Beatles Story Highlights
Main exhibition

The main exhibition takes you on a journey through the story of the Beatles and their deep connection with the city of Liverpool.
See how the band formed from humble beginnings at high school in a poor working-class neighbourhood to appearing in clubs throughout the city
You'll find recreated sets of some of the most important moments in the Beatles lives, like their residency in Hamburg.
Learn about their iconic recording sessions at Abbey Road Studios, and their first album, "Please Please Me" which topped the charts
See the spectacular clothes inspired by their time spent in India
Learn about their legendary performances in America. Over 34% of America's population was believed to have watched their first appearance on the Ed Sullivan Show.
The exhibit contains rare items, including original manuscripts, instruments and more!
Kids Zone
A special kids zone introduces the music and legacy of the Beatles to children. You'll find fun interactive displays and special Beatles themed activities. A giant piano allows kids to create their own music, and they can create their own Beatles inspired artwork, and listen to records in the 1960s NEMS record store
More Information:
The entrance ticket comes with an excellent multimedia guide, available in 12 languages. This includes English, Spanish, German, French, Italian, Russian, Japanese, Polish, Mandarin, Cantonese, Korean and Brazilian Portuguese.
The Fab4 Cafe is styled in the spirit of the swinging sixties, serving pastries and sandwiches
The Fab4 Store has the largest range of Beatles merchandise on sale in the world! This includes some exclusive Beatles Story souvenirs that cannot can be found anywhere else in the world!
Ticket Includes:
Entry to The Beatles Story
Complimentary multimedia guide
Access to the Fab4 Stores
Access to the Fab4 Cafes
Access to the Discovery Zone
Please Note:
Voucher to be exchanged upon arrival at The Beatles Story Exhibition, The Royal Albert Dock, 3-4 The Colonnades, Liverpool L3 4A
BOOK TICKETS
TICKET OPTION
TICKET TYPE
CHOOSE
Adult (16+)
Standard Ticket
£18
Senior
Standard Ticket
£14
Student
Standard Ticket
£14
Child (5-15 Years)
Standard Ticket
£10
no hidden fees
terms and conditions
Booking is subject to
terms and conditions
of the tour operator. All passengers are advised to arrange travel insurance.
you might also be interested