Les Miserables, London Tickets
Tickets from £24
Sondheim Theatre, London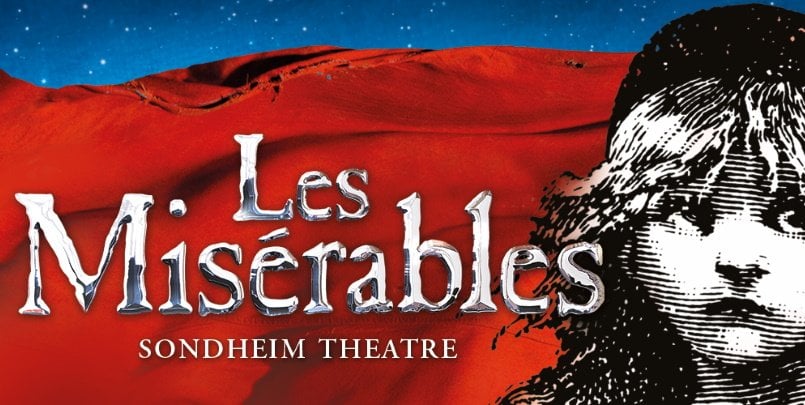 Experience the magic of Les Miserables in London, the world's longest running musical and seen in 42 different countries by over 70 million people. Live the story of Jean Valjean, a French peasant who searches for redemption having served 19 years in prison for stealing a loaf a bread. Featuring songs including 'I Dreamed A Dream', 'Bring Him Home', 'One Day More' and 'On My Own'.
It is based on the classic novel by Victor Hugo set in revolutionary 19th century France. Les Miserables tells the story of Jean Valjean, a prisoner who breaks his parole and is chased by the ruthless police inspector Javert. At the same time, a working-class girl with a child is forced into prostitution in order to pay money to the evil innkeeper and his wife to look after her child, Cosette. Valjean saves the child and eventually a love triangle is formed between Cosette, Marius who is a student of the rebellion and Eponine, a street girl. The story reaches its climax against the backdrop of the June rebellion, with the people of Paris singing of their anger of the monarchy and fighting at the barricades.
More info:
Venue: Sondheim Theatre, 51 Shaftesbury Avenue, London, W1D 6BA
Running time: 2hr 50min (inc. interval)
Content: Recommended for ages 8 and above.
Special notes: All persons aged under 16 must be accompanied and sat next to the accompanying adult. They may not sit on their own within the auditorium. If children do have separate seats, entry could be refused. All patrons, regardless of age, must present a valid ticket to gain entry to the theatre. Please ensure that any children or infants for whom you are responsible also have a valid ticket. Your child should be able to sit unaided within the purchased seat. We do not allow children to be seated on an adult's lap or babes in arms.
Special notes: For your comfort and security, you may be subject to additional checks upon entering the theatre – we appreciate your patience and understanding while these are taking place. Please note that the theatre is unable to accept large items of luggage in their cloakrooms at this time. If you are travelling with such items, storage solutions are available throughout London.
Reviews
"THE WEST END'S LONGEST RUNNING MUSICAL PROVES A HAUNTING AND THRILLING INSPIRATION" – The Guardian
"THE MIGHTY MIS IS STILL REVOLUTIONARY" – Daily Mail
"HEAR THE PEOPLE SING. MESMERIZING LES MISERABLES RETURNS HOME TO THE SONDHEIM THEATRE" – The Sun
Book with Confidence
Tickets refunded if your event is cancelled
Official tickets from an authorised retailer
100% Secure booking process guaranteed
Secure your tickets today!
Secure your tickets to Les Miserables today!