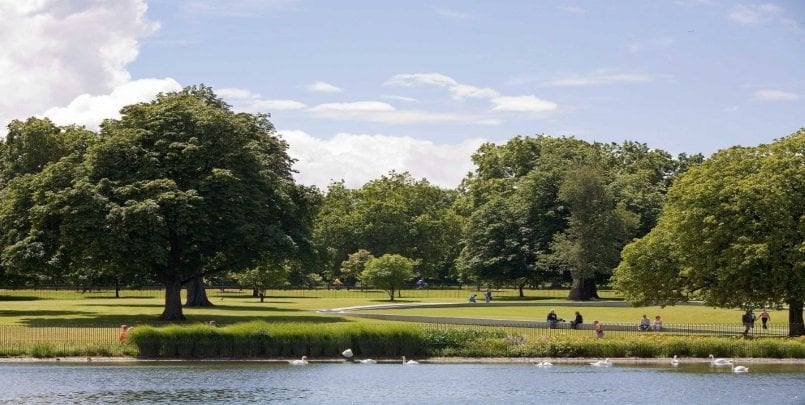 Hyde Park is one of Londoners favourite places to hang out, with millions of visitors each year taking advantage of the 350 acres of beautiful parkland. Hyde Park includes famous landmarks such as Speakers Corner, The Princes Diana of Wales Memorial Fountain and Serpentine Lake. Popular activities include boating, cycling, tennis, horse riding and open water swimming. Visitors can also enjoy the selection of restaurants, cafes and kiosks.
What to do in Hyde Park
Boating on the Serpentine
Rent a rowing or pedal boat and take a trip along the famous Serpentine recreational lake in Hyde Park, admiring the magnificent beauty of this open space.
Princess Diana of Wales Memorial Walk
A great way to enjoy the park is to follow the Diana Princess of Wales walking trail. Marked by 90 plaques that are set in the ground, the walks takes you within the viewpoint of the parks most famous buildings and locations. In its fullness, the walk is 7 miles long and runs through Hyde Park as well as Kensington Gardens, Green Park and St James's Park.
Speakers' Corner
A famous London landmark, Speakers' Corner is the traditional site for public speeches and debates. Since the mid-1800's, people from all walks of life, including historic figures such as George Orwell, Karl Marx and Vladimir Lenin would come to demonstrate free speech. Today, it is not unusual on a Sunday morning to find crowds formed to hear speakers passionately argue their views. Speakers Corner is located on the north-ease edge of Hyde Park, near Oxford Street and Marble Arch.
Diana Memorial Fountain
Opened in July 2004, this unique memorial aims to reflect on the life of Princess Diana of Wales, who died tragically in a car crash in 1997. The large fountain was designed to reflect Diana's inclusive personality as well as her spirit and love of children. There are three bridges where you can cross the water to stand in the middle of the fountain.
7 July Memorial
This moving memorial was built in honour of the victims of the July 7, 2005 London Bombings. 52 steel pillars represent each of the 52 victims of the attacks which are grouped into 4 clusters, representing the four locations of the attack.
Opening Hours
Hyde Park is open every day from 5:00-00:00 all year round
How to get to Hyde Park
By Underground:
The tube stations that surround Hyde Park are:
Lancaster Gate (Central Line)
Marble Arch (Central Line)
Hyde Park Corner (Piccadilly Line)
Knightsbridge (Piccadilly Line)
Save up to 50% when travelling on the London Underground by buying a Visitor London Oyster Card. Click here for more details
By Bus:
North : C2, 6, 7, 10, 16, 19, 23, 36, 52, 73, 82, 98, 113, 274, 390, 414
South : 2, 36, 137, 148, 159, 436
West : 9, 10, 14, 19, 22, 52, 74, 94, 148, 414
East : 8,15, 23, 30, 38,274
By Car:
The postcode for the park is W2 2UH (but this is for guidance only as the park covers a large area.)
what else?
Check out or London attraction's page to see other cool things to do in London