How to Get to Stonehenge from London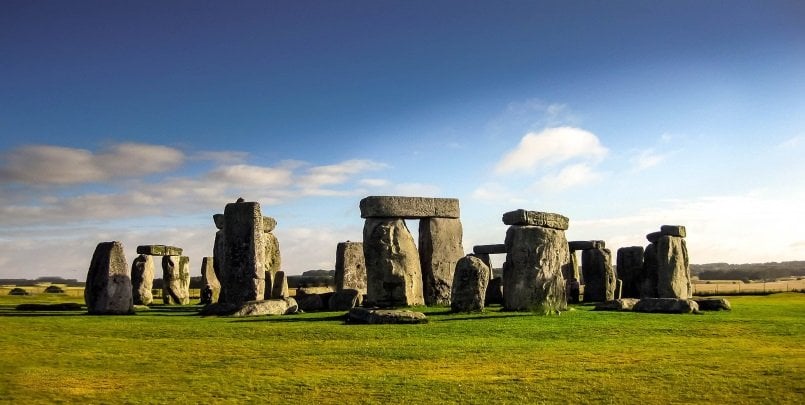 There are several ways to get to Stonehenge from London. For independent travelers, the best way to get to Stonehenge is to take a train and then a bus. A more convenient option is to take a tours of Stonehenge from London which can work out as a cheaper way of getting to the site than using public transportation. Some of the tours also go to nearby attractions like Windsor Castle, Bath and Oxford.
Read on for more information…
Getting to Stonehenge from London
by shuttle bus:
There is an express direct shuttle bus service that runs daily to Stonehenge from Central London. The bus operates with morning and afternoon departures and is a cheap, hassle-free way of getting to Stonehenge from London. Starting from just £39 per person, the price includes entrance fees to the site and an excellent audio guide.
By Tour
Since a typical visit to Stonehenge lasts 1.5 hours, it is popular to combine a visit with other nearby attractions. We offer a selection of great tours to Stonehenge from Central London, with come with luxury transportation and a professional tour guide. This is the perfect way of combining getting to Stonehenge from London with a fun day out for all the family! Our tours include:
Stonehenge, Windsor Castle, Bath & Lacock
This bestselling Stonehenge, Windsor Castle, Bath & Lacock tour departs daily from London. We start by visiting Windsor Castle, the longest continuously inhabited castle in the world which even today serves the Queen and the British Royal Family! We'll have the opportunity to explore the State Rooms and magnificent chapel. This is followed by a visit to Stonehenge, where your expert tour guide will lead you around the stone circles, explaining all the fascinating history and archaeology associated with the site. Next stop is Lacock, a chocolate box village tucked away in the English countryside. Here, you'll enjoy a delicious lunch at a local pub (lunch is included!). Finally, the day ends with a visit to the Georgian city of Bath. This is one of the prettiest cities in the UK. We start the trip with a panoramic overview of the city, followed by some free time for you to explore the many attractions including the Roman Baths and Jane Austen Centre at your leisure.
Stonehenge, Hampton Court Palace & Bath
This Stonehenge, Hampton Court Palace & Bath tour from London takes you to three of Britain's highlights. Start the day with an exclusive, behind-the-scenes tour of Hampton Court Palace, before the site opens to the general public. From here, we'll go to Stonehenge, with a fascinating tour led by our expert guide. The tour includes lunch at the Stonehenge Cafe, where you'll have a selection of delicious sandwiches and salads to choose from. The final stop of the day is to the city of Bath, with a guided tour of the city followed by some free time to explore. This Stonehenge, Hampton Court Palace & Bath tour is available every Monday, Wednesday and Saturday departing from Central London.
By Public Transport:
Getting to Stonehenge from London by public transportation involves taking a train to nearby Salisbury and then a bus to Stonehenge.
There is a direct train from London Waterloo station to Salisbury Station with a direct train every hour which takes around 1hr20m. Bear in mind that train tickets in the UK can be very expensive (as much or even more than £55 for a return journey!), especially if you don't book the tickets in advance.
From Salisbury Station, there is a private bus to Stonehenge which takes 30 minutes direct.
The bus is actually run by a private company called 'The Stonehenge Tour' and offers various ticket options, including tickets that also include stops at nearby Old Sarum and Salisbury Cathedral. Both places are both worth a visit and can add to the overall Stonehenge experience.
The ticket works like a hop-on hop-off bus, meaning you can spend as much time as you want at Stonehenge, Old Sarum or Salisbury Cathedral and the buses run every hour. Also in the summer months the company tends to increase its service.
There are three types of bus ticket: Ticket 1 (£15 per adult) includes just the bus ticket to Stonehenge without an entrance ticket to the site. Ticket 2 (£28 per adult) includes Stonehenge with a fast-track entrance ticket to the site and Old Sarum. Ticket 3 (£34 per adult) includes Stonehenge with entrance ticket plus Old Sarum and Salisbury Cathedral. You can find more details about the tickets at their website here.
To sum up the public transportation option, there are a few things to bear in mind:
If you book the train tickets in advance, then this can sometimes work out as the cheapest way of getting to Stonehenge from London.
HOWEVER, very often the train prices can be so expensive that its actually cheaper and more convenient to take a tour from London (see below for more information about tours.)
Also bear in mind that most people won't spend more than 1.5 hours in Stonehenge because there isn't a huge amount to see. So combining a visit with places like Salisbury, or with tours that head to other nearby places like Bath or Stratford-upon-Avon can make sense.
By car:
Stonehenge is located in the Wiltshire countryside, about 90 miles from London. It can be accessed off of the A360 at Airman's Cor­ner. If you are using a SATNAV, the Post Code for Stonehenge is SP4 7DE.
Bear in mind that if you are driving a car from Central London to Stonehenge you will have to pay the London Congestion Charge which is a flat rate which is normally £11.50. More details here.
If you are considering renting a car to get to Stonehenge, then check out our car rental page.
and more…
Over 5,000 years of history awaits on a visit to Stonehenge. This UNESCO World Heritage Site is one of the most popular places to visit in the UK. Make sure you plan your visit in advance and know how you are going to get there! For more general information about what to see and do in Stonehenge, check out our dedicated page here.
map: