How Many Days Should You Spend in London?
For first time visitors, we recommend spending at least four or five days in London, which will give you enough time to get a feel for the city and see many of its main sites. With so much to do and see in London, we've come up with some bucket-list suggestions on how you can make the most of your time in London!
How Many Days Should You Spend in London?
Day 1 in London
London is a very large city, 138 square miles bigger than New York City! However, the majority of attractions and sites are located within Central London, such as the Tower of London, St Pauls' Cathedral and the London Eye. You can see all of these on our Classic London Day Tour or visit them independently. This is a great way to spend your first day in the city!
Central London is also where you will find the best shopping, as well as restaurants, pubs and cafes. It's the perfect place to stay in London for tourists, with a huge selection of hotels to choose from.
Day 2 in London
London is really geared towards welcoming tourists, and there are hop on hop off buses offering 4 different routes to all the major neighbourhoods of the city, as well as a free river cruise along the River Thames! These open-top buses are ideal for you to get to and from all the major London attractions which are dotted across Central London.
Within Central London, you can divide the city into distinct neighbourhoods and districts. It's easy to spend a second day exploring the Buckingham Palace area, including places such as the Houses of Parliament, Trafalgar Square and crossing over the River Thames to the London Eye. Our one-day itinerary outlines how you could spend your third day in London.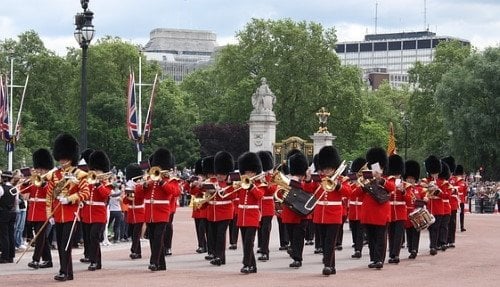 You could easily spend 4 or 5 days exploring some other areas where famous attractions and sites are located. For example, spend a second day walking through Soho, shopping along Oxford Street and enjoying Hyde Park! Our list of things to do in London explores all the amazing things you can do in the city!
Spending 3 Days in London
It's easy to spend a morning or afternoon at a major museum or gallery, like the British Museum or the National Portrait Gallery. Lots of tourists will spend an evening in Covent Garden which is London's theatre district where you can watch amazing musicals like The Lion King, Les Miserables and Wicked or catch a play like Agatha Christie's Mousetrap. You could also spend half a day at a major attraction like the Tower of London or Madame Tussauds.
These are definitely worthwhile places to visit if you are planning on spending 3 days in the city.
Spending 4 Days in London
If you want to spend a fourth day in London, start by heading to Borough Market to savour London's tasty street food, and enjoy amazing panoramic views at the nearby Shard viewing platform. You could even stop for lunch at a traditional English pub for some fish and chips! Or if you are in the mood for a quintessentially English afternoon tea, try our Vintage London Bus Tour with Cream Tea at Harrods.
Spending 5-days in London
You could spend a fifth day venturing outside of London! Windsor Castle, the oldest continuously occupied castle in the world, is just a short shuttle ride away. There's also the UNESCO World Heritage Site of Stonehenge to visit and famous cities like Oxford nearby.
And more….
Whatever way you choose to spend your time in London we are sure you'll have a wonderful trip. We invite you to take a look around our Tourist England website for more London travel inspiration!
We offer a 5-day London vacation package, which includes a stay in a hotel of your choice and a sightseeing tour of the city. We can extend this package to 6 or 7 days or reduce it by a day.
We recommend booking all hotels and activities early during peak vacation times to ensure availability.