Our pick of the best hotels near Kew Gardens. The gardens cover 326 acres and there are four entrance gates at different parts of the garden. There are a few hotels located just a few minutes walk from the gardens, and other hotels nearby that offer free parking.
Hotels Near Kew Gardens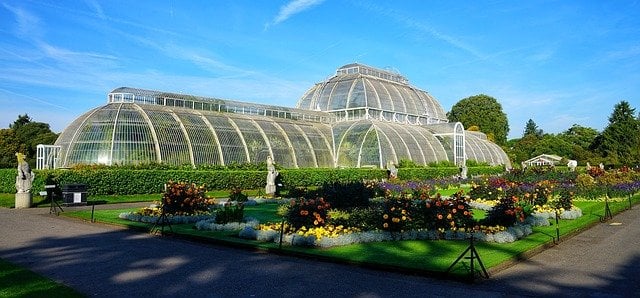 1. Kew Gardens Hotel – 5 minutes walk away!
The Kew Gardens Hotel is located just a 5 minute walk from Kew Gardens, with entrance via Victoria Gate. This hotel is also right next to Kew Gardens station, which is an overground and underground (district line) station. This is a small hotel with 20 bedrooms, a gastro pub and restaurant. It's a popular place to stay for people visiting Kew Gardens because of its excellent location and transport links.
More info & hotel prices: See here
2. Coach & Horses Hotel – very close to Kew Gardens
The Coach & Horses Hotel is in an ideal location near Kew Gardens, just a five minute walk from Elizabeth Gate. The boutique bedrooms have a botanical design reflecting their location next to the neighbouring gardens, and the hotel even offers discounted tickets to Kew. The hotel gets an 8.9 rating on booking.com and guests describe it as the perfect location for a visit to Kew.
More info & hotel prices: See here
3. Petersham Hotel – with free parking!
The Petersham is a 4-star hotel that's located near Kew Gardens and next to Richmond Park. The hotel has 58 room, many of which overlook the River Thames. The Petersham offers complimentary car parking on a first come first serve basis, making it ideal for people who are visiting Kew Gardens by car. There is a bus that goes from outside the hotel to Kew Gardens Lion Gate, and the journey takes around 15 to 20 minutes.
More info & hotel prices: See here
4. Novotel London Brentford
The Novotel London Brentford is just a 10 minute bus ride away from Kew Gardens. This 4-star hotel is perfect for an overnight stay with easy access to Central London and Heathrow Airport. It's a good option if you are looking for a modern and clean hotel from a reliable brand. The hotel offers a range of breakfast options and there is paid parking available on site. This is a great option for a stay near Kew Gardens.
More info & hotel prices: See here
5. Clayton Hotel Chiswick
Clayton Hotel Chiswick is only a 10-minute drive or 20-minute walk away from Kew Gardens. This 4-star hotel is located on the Chiswick High Road, near shops and restaurants and is also conveniently located to get into Central London. It has on site parking which is perfect if you are travelling by car to visit Kew and is situated outside London's congestion charge zone. This is another great option for people visiting Kew Gardens.
More info & hotel prices: See here
Search for Hotels near Kew Gardens
Find hotels near Kew Gardens with our search engine. Enter your travel dates to find the nearest hotels to Kew Gardens with the best deals. See the hotel location on our interactive map with live prices.
Stay in a London Hotel with Speedy Access to Kew
Another great option is to stay in a hotel in London. Kew Gardens Underground Station runs on the District Line which puts major London hotel districts within easy reach. This includes areas like Earls' Court, South Kensington and Knightsbridge.