There are lots of hotels near Hyde Park, which is the largest royal park in Central London. The park covers 350 acres, and there are lots of different neighbourhoods on the northern, southern and eastern edges of the park. We'll explore some of the most popular hotels near Hyde Park according to price and distance.
Luxury Hotels Near Hyde Park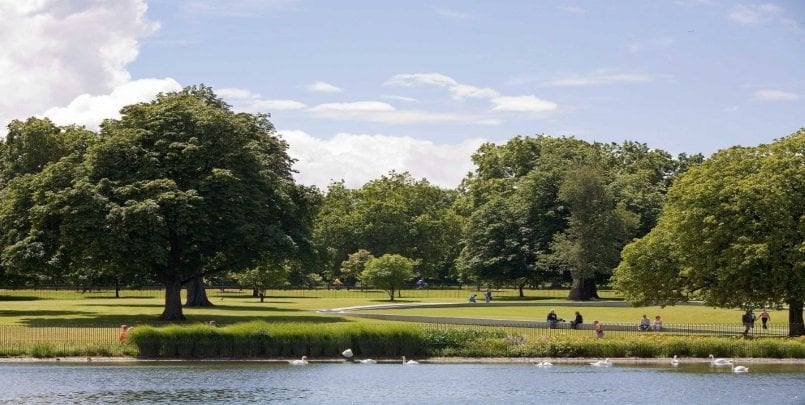 There are lots of luxury hotels located near Hyde Park. Many of these hotels are located east of the park in Mayfair, one of the most expensive neighbourhoods in London.
You'll also find lots of luxury hotels located south of Hyde Park in the Knightsbridge neighbourhood of London. This is where Harrods and Harvey Nichols department stores are located.
The Dorchester
The Dorchester is one of the world's most iconic hotels located next to Hyde Park. This is one of the most famous London hotels, and 115 of the 250 rooms have views over Hyde Park. It's within walking distance of the shops and restaurants of Mayfair, and Hyde Park Corner Underground station is nearby.
It really doesn't get better than the Dorchester which offers the gold standard of accommodation in the city.
Four Seasons Hotel
The Four Seasons Hotel at Park Lane is located just a short distance from Hyde Park in the upmarket Mayfair neighbourhood. The hotel boasts stunning views, elegant design and excellent facilities. It's considered one of the top hotels in London and many of the rooms overlook Hyde Park. The Four Seasons is also near Harrods and Oxford Street and is the perfect place to stay if you are looking for a luxury hotel in London.
Bulgari Hotel
The Bulgari Hotel near Hyde Park is a great place to stay if you are looking for a luxury stay. It's also near the Royal Albert Hall and Knightsbridge underground station. The rooms are a mix of English style and Italian Heritage, with luxury furnishings made exclusively for the Bulgari hotel. The hotel gets fabulous reviews on booking.com and guests describe it as a magical place to stay.
The Berkeley
The Berkeley is located in Knightsbridge, a short walk from Hyde Park. The hotel is over 100 years old and includes a 1-star Michelin dining experience. Visitors can enjoy the luxury interiors and as well as a spa and fitness centre. Guests have described the hotel as outstanding, with friendly concierge service and management team attentive down to the small details. The Berkeley gets a very high review score on booking.com.
Cheap Hotels Near Hyde Park
There are lots of cheap hotels located in Bayswater and Paddington, two neighbourhoods just north of Hyde Park. These areas are within walking distance of Hyde Park and also have excellent access to Central London and Heathrow Airport via the underground.
The Crescent Hyde Park
The Crescent Hyde Park is located in Bayswater which is just north of the park. This 3-star hotel gets lots of high reviews on booking.com, and guests love the location near Hyde Park and the friendly staff. This is a small hotel and is about a 20-minute walk from Kensington Gardens. It also offers good value for money, with contemporary rooms, and transportation links via the nearby Central line.
Mid-Range Hotels Near Hyde Park
You'll find lots of mid-range hotels near Hyde Park in the area surrounding Oxford Street. London's busiest shopping street starts on the northeastern corner of Hyde Park and is a great place to stay for excellent shopping and sightseeing. For 3-star hotels, looks at the Paddington and Bayswater areas. There are also lots of mid-priced hotels in Earl's Court, which is a little further away from Hyde Park but offers good value for money.
Hotel Groups Near Hyde Park

There are a lot of major hotel groups that have hotels located near Hyde Park. These include popular brands like Hilton, Best Western, Radisson Blu and Crowne Plaza.
North of Hyde Park
The DoubleTree by Hilton and the Hilton London are both located on the north-west corner of the park on Bayswater Road. These hotels are ideally located to get to the park, and also have great transport links, just a stone's throw from Queenway underground station.
There is also a Best Western next to Lancaster Gate underground station, which is just a few minutes walk from the park. Head further into Paddington, and you'll find a Hilton Hotel, a Mercure Hotel and a Hotel Indigo.
On the North East side of the park, you'll also find lots of well-know hotel groups. This includes a DoubleTree by Hilton hotel next to Marble Arch station and a Radisson Blu. And just a few minutes walk north lies the London Marriott Hotel Marble Arch. All of these hotels are ideally situated to get to Oxford Street.
South of Hyde Park
South of Hyde Park you'll find a Holiday Inn and the Copthorne Tara hotel just off Kensington High Street. Plus there are lots of hotels along the Cromwell Road, including a Marriott, Crowne Plaza, Radisson Blu and Holiday Inn. These are just a few minutes walk to the Natural History Museum, V&A and Science Museum.