Highclere Castle Opening Dates 2020
Highclere Castle is only open on selected dates during 2020, which gives an opportunity for the public to discover the location of the real Downton Abbey. Entrance tickets are available in the morning and afternoon, and the following applies to the Spring & Summer Season. We also run Highclere Castle tours, with entrance ticket and return minibus transport included from Central London. 
COVID-19 update: Highclere Castle is currently closed until further notice.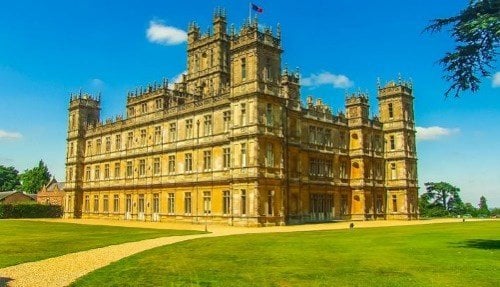 Opening Dates 2020
These are the opening dates at Highclere Castle for their spring & summer admission, as well as the "Living in a Castle" special event. It does not include the dates of any other events or special tours taking place at Highclere.
Spring 2020
11-26 April, 2020
3-5 May, 2020
10-16 May, 2020 – "Living in a Castle", a special event at Highclere
24-26 May, 2020
Summer 2020
12-30 July, 2020, open every day except on Fridays and Saturdays
August 2020 – open every day except on Fridays and Saturdays
1-3, 6-10 & 14-16 September, 2020
Opening Dates 2021
Spring 2021
4-18 April 2021
1-4 May 2021
9-15 May 2021, "Living in a Castle", a special event at Highclere
29-31 May 2021
1 June 2021
Summer 2021
11-29 July, 2021, open every day except on Fridays and Saturdays
August 2021 – open every day except on Fridays and Saturdays
1-2 & 5-7 September, 2021