Highclere Castle Opening Dates 2024
Highclere Castle is only open on selected dates during 2024, which gives an opportunity for the public to discover the location of the real Downton Abbey. Entrance tickets are available in the morning and afternoon, and our Highclere Castle tours are available in the Spring and Summer seasons. We also run a Highclere Castle shuttle bus, with entrance ticket and return minibus transport included from Central London.
Extra Tickets Added: Extra tickets available on our small group tour for December 5, 6, 7 and 19. For more details click here
Quicklinks:
Spring Opening Dates (March, April & May) >>>
Summer Opening Dates (July, August & September) >>>
Opening Dates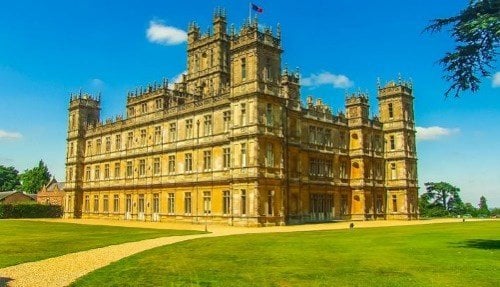 These are the opening dates at Highclere Castle for the spring & summer admissions. We offer group tours from London to Highclere Castle on these dates as well as for some of the special events.
Spring 2024 – March, April & May
Highclere Castle is open on selected dates in March, April and May 2024. Our Highclere Castle tour will take you to the Castle and nearby Downton Abbey sites with admission tickets included.
March: 30 & 31
April: 1, 2, 3, 6, 7, 8, 9, 10, 11, 12, 13
May: 4, 5, 6, 7, 26, 27, 28, 29
March, April & May Tour: Book Now >>>
May 2024 – Special Event To Be Announced
During May 2024 there will be a week of special tours and talks at Highclere. It includes talks, a guided tour of the Castle State Rooms, Galleried Bedrooms and the Tutankhamun exhibition. There will also be time to explore the wonderful gardens. Tickets are limited and are included in our small group tour from London.
Summer 2024 – July, August & September
Our Highclere Tours include an entrance ticket to the Castle and a visit to the nearby Downton Abbey sites with convenient pickup and dropoff locations from and back to Central London. Available during summer 2024 opening dates.
July 7-31, excluding Fridays & Saturdays
August 1-29, excluding Fridays and Saturdays
September 1 & 2
Highclere Castle Tours
Our Highclere Castle tours are the perfect way of getting to the castle from London. We offer several different Highclere Castle tours which are available in 2024 on the dates listed above. These tours are top-rated and get sold out well in advance. We strongly recommend booking once you have confirmed your travel dates.
If our tours are sold out, please read our article for more options.
Our Highclere Castle day trip includes a visit to Highclere Castle and a tour of the nearby Downton Abbey filming locations including the real-life Downton village. This is the perfect tour if you want to see all the most iconic Downton Abbey filming locations in one day.
We offer a large group tour in a luxury 40-seater coach and a small-group tour in an executive 18-seater minibus.
We also offer a direct Highclere Castle coach that includes Highclere Castle tickets with return transport from London on selected dates.
Finally, our private tour to Highclere Castle is ideal if you are looking to travel from London in a private vehicle and spend the day exploring the castle and nearby filming locations. We can offer a private tour on any date when Highclere Castle is open. However, admission tickets unlike our group tours, must be purchased directly from the Highclere Castle website. Since Highclere Castle tickets get sold out well in advance, we recommend booking a private tour as soon as you have confirmed your travel dates.
Special Tours & Events
Highclere Castle hosts a number of special tours and events. These take place on different dates during Winter, Spring, Summer and Autumn. The special tours are open to a limited number of guests.
Special Events:
We can arrange private Downton Abbey themed tours on these dates with pickup from London, Oxford or Southampton.
Special Wintertime Tours – 2024
January 9, 14, 15, 25, 31
Earl and The Pharoah Special Event 2024
February: 3, 4, 22, 23, 24, 25
March: 1, 2, 8, 9, 10, 15, 16
April 30
Easter Egg Trail – 2024
Midsummer Castle Guided Tours 
Castle Tours Magic 2023
Real Lives & Film Sets 2023
September 13, 14, 21, 28
October 13, 14, 15
November 10
Tours from London are available on September 3 & 10 and October 10, 28 & 29. See further details here
To arrange a private Downton Abbey themed tour on these dates, please get in touch. Please note that we can only arrange tours on these dates if there are still tickets available to book on the Highclere Castle website.
Highclere Castle Dates – Christmas 2023
November: 22, 24, 25, 26, 29, 30
December: 1, 2, 5, 6, 7, 11, 12, 13, 15, 16, 19, 20
Tours from London are available on December 6 & 7. You can see further details via the link here