Highclere Castle Opening Dates 2021
Highclere Castle is only open on selected dates during 2021, which gives an opportunity for the public to discover the location of the real Downton Abbey. Entrance tickets are available in the morning and afternoon, with Highclere Castle tours available in the Spring and Summer Season. We also run a Highclere Castle shuttle bus, with entrance ticket and return minibus transport included from Central London.
Opening Dates 2021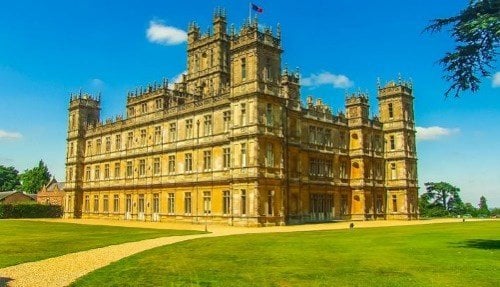 These are the opening dates at Highclere Castle for their spring & summer admission, as well as the "Living in a Castle" special event. We offer group tours from London to Highclere Castle on these dates.
Spring 2021
12-19 April 2021 – "Spring Gardens & Champagne Picnic Afternoon Tea"
Summer 2021
11-29 July, 2021, open every day except on Fridays and Saturdays
August 2021 – open every day except on Fridays and Saturdays
1-2 & 5-7 September, 2021
Highclere Castle Tours
Our Highclere Castle tours are the perfect way of getting to the castle from London. We offer several different Highclere Castle tours which are available in 2021 on many of the dates listed above. These tours are top-rated and often get sold out well in advance.
Our Highclere Castle day trip includes a visit to Highclere Castle and a tour of the nearby Downton Abbey filming locations including the real-life Downton village. This is the perfect tour if you want to see all of the most important Downton Abbey filming locations in one day.
Our shuttle bus tour includes an entrance ticket to Highclere Castle and transportation from Central London. This is the perfect tour if you are just looking for an easy way to get to Highclere Castle from London.
Finally, our private tour to Highclere Castle is ideal if you are looking to travel from London in a private vehicle and spend the day exploring the castle and nearby filming locations.
Special Tours & Events
Highclere Castle hosts a number of special tours and events. These take place on different dates during Winter, Spring, Summer and Autumn. The special tours are open to a limited number of guests.
Spring Special 2021
6-7, 17-18, 23 & 30-31 March 2021
1-3 April 2021
5-6 May 2021
Summer Special 2021
2, 5, 6, 17, 22 & 26-30 June 2021
6-8 July 2021
Magic of the Movies 2021
11 & 12 September 2021
Real Lives & Film Sets 2021
14, 20, 21, 28 September 2021
15-17, 25 & 29 October 2021
17 November 2021
Highclere Castle 2022 Dates
Opening dates for Highclere Castle in 2022 have not yet been released. Fill out our form below and we'll let you know when they are!