Exhibitions in London, March 2022
March 2022
Galleries, Museums & More
Titanic Exhibition

explore

Van Gogh Immersive Experience

explore

Harry Potter Photographic Exhibition

explore
Our pick of the best new and ongoing exhibitions in London this March 2022. Several exhibitions come to a close include Beano, Titanic and Harry Potter photographic exhibition. Some popular exhibitions are on at the V&A, Royal Academy of Arts and Tate Modern. There are also several ongoing exhibitions using interactive and immersive technology.
Life Through a Royal Lens
From 4 March, Kensington Palace
A new exhibition is opening at Kensington Palace exploring the Royal Family's relationship with the camera. You'll see iconic images of members of the Royal Family, from Queen Victoria and Prince Albert right up until today. The exhibition opens on 4 March 2022.
Exhibition is included in standard entry ticket
Book Now: Kensignton Palace >>>
Titanic Exhibition
Ends 20 March 2022
A highly successful Titanic exhibition comes to a close on 20 March 2022. This unique interactive experience tells the story of the fateful ship and the passengers onboard. You'll get to step inside a recreation of the ship, walk through many of the rooms and view over 300 artefacts. A very interesting exhibition with a twist showing in Southwark.
Get Tickets: Titanic Exhibition >>>
Van Gogh Immersive Art
A Van Gogh Immersive experience is on in London. You'll get to see artwork like never before in this 360 degree multimedia experience.
Get Tickets: Van Gogh Immersive >>>
Harry Potter Photographic Exhibition
Ends 31 March 2022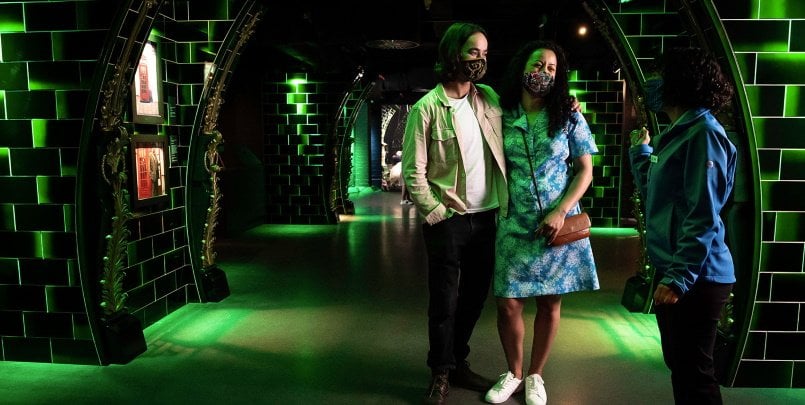 Your last chance to see the Harry Potter exhibition in Covent Garden. Perfect for potterheads and muggle fans, with lots of photos from the filming of the movies. You can even grab a pint of Butterbeer at the end of the experience!
Get Tickets: Harry Potter Photographic Exhibitions >>>
Surrealism Beyond Borders
Tate Modern
This new exhibition at the Tate Modern explores the scope of Surrealism, and how the movement inspired artists from around the globe. The exhibition showcases how the revolutionary art movement took root, from Cairo to Prague, Lisbon to Tokyo and Buenos Aires to Mexico City. There will be over 150 works on display, including iconic paintings by Max Ernst, a 36-foot drawing entitled Long Distance 1976-2005 by Ted Joans, and works by artists including Salvidor Dali and Alberto Giacometti.
Get Tickets: Surrealism Beyond Borders >>>
Victor Vasarely: 'Universe'
Ending 27 March 2022
This Op-Art exhibition at Selfridges focuses on the works of Victor Vasarely. Op-art, or optical art, is a pioneering exhibition that takes place in the Corner Shop at Selfridges in a climate-controlled gallery space. You'll be able to browse the works of the father of Op-Art as well as his forward-looking contemporary, Paco Rabanne. This includes some of the artists most famous works. You can also browse a selection of Vasarely inspired merchandise in the shop.
Book Tickets: Victor Vasarely: 'Universe' >>>
BEANO: Comics Exhibition
Until 6 March 2022, Somerset House
Last chance to catch Beano: The Art of Breaking the Rules, which is showing at Somerset House until 6 March 2022. As Dennis hits 70 years, Somerset House is putting on a celebration honouring the world's longest-running comic! Get ready to see your favourite Beano characters including Dennis and Gnasher in this joyous comic exhibition showcasing amazing artwork and artefacts from the archives.
Get Tickets: Beano Exhibition >>>
Francis Bacon: Man and Beast
Royal Academy of Arts
This is one of the major art exhibitions taking place in London this year. Francis Bacon was one of the most important painters of the 20th Century, and this exhibit at the Royal Academy of Arts will look at the artists' fascination with animals. It will include some of his earlier works, his last ever painting, his monumental triptychs, and paintings from private collections that are rarely made available for the public to view.
Get Tickets: Francis Bacon: Man and Beast >>>
Beatrix Potter Exhibition
V&A Museum
Beatrix Potter: Drawn to Nature is a celebration of one of the greatest Children's authors of all time. It will explore the life of the author as a conservationist and scientist, in this family-friendly exhibition. You'll get to see places and nature that inspired many of her most beloved characters.
Get Tickets: Beatrix Potter >>>