Christmas Theatre in London
Our pick of the best Christmas theatre in London in 2020. Every year sees unique and festive shows come to town, from toe-tapping musicals to classic fairy tales and impressive pantomime. There's something for everyone this Christmas in London, with shows taking place across the capital. This year, Christmas will look a little different with theatres putting in place COVID safety measures including social distancing, reduced seating and increased hygiene.
Update 15 December 2020: London enters Tier 3 on Wednesday 16th December, and all theatres will temporarily close.
A Christmas Carol
A Christmas Carol is based on the book by Charles Dickens. Get into the festive spirit with an adaption to stage of probably the most popular story that Dickens ever wrote. The miserly Ebenezer Scrooge is allowed to review his life and to change its outcome, eventually finding redemption and joy.
A Christmas Carol is on show at London's Dominion Theatre as a concert production. It will run from 7 December 2020 to 2 January 2021. This is expected to be one of the most popular Christmas shows of 2020, so it's recommended to book in advance!
Available from from 7 December 2020 to 2 January 2021.
Nutcracker Delights
Nutcracker Delights is the perfect Christmas show for all the family. Based on the original, this feel-good ballet is bound to cheer up the whole family this Christmas 2020!
The English National Ballet has put together a specially adapted programme of moments from the original Tchaikovsky score, in this socially distanced run at The London Coliseum. Enjoy highlights from the original ballet, including classics like the Sugar Plum Fairy and the Prince, the Snowflakes, the Flowers, the Spanish dance and more. Nutcracker Delights runs for 70 minutes with no interval, and tickets are expected to sell out quickly this year!
Available from 17 December 2020 until 3 January 2021.
Potted Panto
See 7 classic pantomimes in the space of 70 minutes at The Garrick Theatre this Christmas 2020. Get ready for one hilarious show that's full of non-stop laughter and funny jokes from beginning to end. Enjoy a sweeping tour through all the major panto favourite. This includes Sleeping Beauty, Aladdin, Jack & the Bean Stalk, Cinderella, Dick Whittington and A Christmas Carol!
Potted Panto returns for its 10th anniversary production starring Daniel Clarkson, Jefferson Turner, Jacob Jackson, and Charlotte Payne. With very few pantos taking place this Christmas, this one is likely to sell out fast!
Available from 5 December 2020 to 10 January 2021
Everybody's Talking About Jamie
Everybody's talking about Jamie is the first major musical to reopen, and in time for Christmas 2020! Everybody's Talking About Jamie returns to London's Apollo Theatre under strict COVID safety guidelines. See this award-winning musical that's inspired by a true story, starring Noah Thomas, Melissa Jacques, Sejal Keshwala, Hiba Elchikhe, Gillian Ford and Phil Nichol.
Jamie New is 16 years old and lives in Sheffield on a council estate. He doesn't quite fit in and is terrified about the future. But Jamie's going to be a sensation. Supported by his brilliant loving mum and surrounded by his friends, Jamie overcomes prejudice, beats the bullies and steps out of the darkness, into the spotlight.
Booking from Saturday 12 December 2020
West End Musical Christmas
See West End Musical Christmas live at the Palace Theatre! This festive celebration brings together some of the biggest West End stars including Sophie Evans, Alice Fearn, Ben Forster, Rachel John, Jamie Muscato, Trevor Dion Nicholas and Layton Williams. And get ready for some very special guests, in a show brought to you by the roducers of 'West End Musical Drive In' and 'West End Musical Brunch'. Available for only 6 performances, make sure to book your tickets early!
Available from 17-20 December 2020
The Play that Goes Wrong
The Play That Goes wrong returns to the Duchess Theatre this December 2020. Just in time for Christmas, this roaring comedy is sure to lift your spirits, described as a cross between Fawlty Towers and Noises Off.
The Cornley Polytechnic Drama Society are putting on a 1920s murder mystery, but as the title suggests, everything that can go wrong… does! The accident-prone thespians battle against all odds to make it through to their final curtain call, with hilarious consequences!
Available from 9 December 2020
SIX: The Musical
SIX The Musical is reopening on 5 December 2020. Described as 'the most uplifting piece of new British musical theatre,' (Evening Standard) treat yourself this Christmas!
From Tudor Queens to Pop Princesses, the six wives of Henry VIII take to the mic to tell their tales, remixing five hundred years of historical heartbreak into an 80-minute celebration of 21st-century girl power.
Opening 5 December 2020
Love Letters
Love Letters has appeared across theatres around the world, and heads to London's Theatre Royal Haymarket this Christmas 2020! This 1990 Pulitzer Prize for Drama finalist was written by A.R. Gurney, and has been well received by audiences and critics alike. Tickets are now on sale for a COVID secure run this Christmas.
Starring Martin Shaw and Jenny Seagrove, this timely play is about two people physically separated yet brought together by candid communication and shared confidences, with a unique romantic friendship that lasts almost half a century.
Available from 3 December 2020 until 7 February 2021
The Little Match Girl
The Little Match Girl comes to London's Sadler's Wells Theatre this Christmas. Hans Christian Andersen's festive story is recreated through dance, song and live music in this performance directed & choreographed by the award-winning Arthur Pita.
Set in an imaginary Italian town on an icy cold Christmas Eve, the little match girl wanders the streets with just one final match to keep her warm. Journey with her as she comes across moments of real kindness and utter malice in an endlessly imaginative world.
Available from 17-27 December 2020
Death Drop
Get ready for a "Dragatha Christie Murder-Mystery"! Courtney Act and Monét X Change arrive at The Garrick Theatre this Christmas 2020 for a brand new killer comedy that's sure to make you laugh your socks off!
It the early 90's and our queens are at a glamorous party on Tuck Island. Unfortunately, as guests reveal secrets about their past, they start disappearing one-by-one. But you'll have wait for the grand finale to find out who did it!
Available from 3rd December 2020 to 17 January 2021
The Comeback
The Comeback is a new comedy written by and starring The Pin's. See Ben Ashenden and Alex Owen, along with a celebrity guest each night at London's Noel Coward Theatre!
Available from 8 December 2020 to 3 January 2021
Mischief Movie Night
See the improvised movie live on stage, starring them and directed by you! You suggest a genre, location and title and the Mischief improvisers will bring the show to life! A comedy blockbuster on show at the Vaudeville Theatre this Christmas 2020. Don't miss it!
Available from 9 December 2020 to 31 January 2021
Christmas Drive-In Panto: Cinderella
The ultimate drive-in experience comes to London this Christmas 2020 with a Cinderella Panto Show! Get ready for a professionally produced live production of Cinderella, broadcast across two massive screens! A group of nine professional actors will melt hearts as audiences follow Cinders on her adventures, helped by the Fairy Godmother.
The perfect night out for all the family brought straight to your car! The show is held at London's Syon Park (near Kew Gardens).
Available 4, 5 & 6 December 2020
The Snowman
This classic Christmas production of The Snowman is perfect for families with small children. It has been running every Christmas for the past 22 years, and is one of the most magical festive treats in London. The Snowman goes on show at the Peacock Theatre
The story begins when a boy named James builds a snowman that comes to life at the stroke of midnight. From here starts an adventure that takes them to the North Pole to meet Santa Claus!
Available from 21 November 2020 to 3 January 2021
Update: Cancelled due to COVID
White Christmas The Musical
Get ready for one of the best Christmas musicals of 2019. White Christmas The Musical is about a song-and-dance team who put on a show in a Vermont inn and fall for a stunning sister act. Filled with classic Irving Berlin songs, this is the perfect feel-good production for all the family. The show takes place for a limited time at the Dominion Theatre in Central London.
Available from 16 November 2019 to 4 January 2020
Update: Cancelled due to COVID
Circus 1903
On show for only three weeks, get ready for one of the most spectacular productions of the year. Circus 1903 takes you back to the golden age of circus at the turn-of-the-century. You'll find acrobats, jugglers, trapeze artists, high-wire performers and more. And for this year's production Circus 1903 have teamed up with award-winning puppeteers!
Available from 19 December 2019 to 5 January 2020
Update: Cancelled due to COVID
Goldilocks and the Three Bears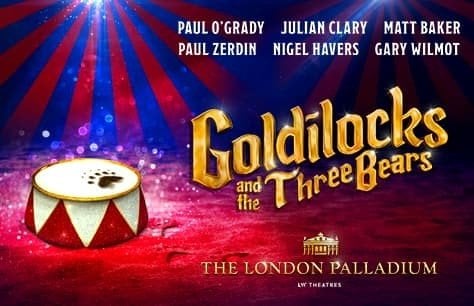 Goldilocks and the Three Bears comes to London in what's set to be the funniest Christmas pantomime this year. This year's performance will be set in a circus, where Goldilocks and her mother face off against an Evil Ringmaster and his rival circus. Expect special effects, hair-raising stunts and impressive circus acts with a star-studded cast including Julian Clary and Matt Baker.
The funniest Christmas theatre show in London this 2019, there will be matinee and evening performances at the London Palladium.
Available from 7 December 2019 to 12 January 2020
Update: Cancelled due to COVID