Christmas Theatre in London 2020
Our pick of the best Christmas theatre in London in 2020. Every year sees unique and festive shows come to town, from toe-tapping musicals to classic fairy tales and impressive pantomime. There's something for everyone this Christmas in London, with shows taking place across the capital.
Aladdin Pantomime!
A new pantomime production of Aladdin comes to London for the Christmas season. Take a journey along the magic carpet with live music, magic lamps, and a journey to a faraway land!
Available from 20 November 2020 to 3 January 2021
The Snowman
This classic Christmas production of The Snowman is perfect for families with small children. It has been running every Christmas for the past 22 years, and is one of the most magical festive treats in London. The Snowman goes on show at the Peacock Theatre
The story begins when a boy named James builds a snowman that comes to life at the stroke of midnight. From here starts an adventure that takes them to the North Pole to meet Santa Claus!
Available from 21 November 2020 to 3 January 2021
Nativity! The Musical
Nativity! The Musical is the perfect Christmas show for all the family. Based on the hit film, this feel-good comic story is bound to get the whole family laughing!
Every child wants to star in a Nativity. But at St Bernadette's School, things are taken a little further when the school decides to make a musical version, and invite a Hollywood producer to come and see it. Watch and listen as the kids and teachers work hard to get it all ready!
Available from 11-27 December 2019.
A Christmas Carol
A Christmas Carol is based on the book by Charles Dickens. Get into the festive spirit with an adaption to stage of probably the most popular story that Dickens ever wrote. The miserly Ebenezer Scrooge is allowed to review his life and to change its outcome, eventually finding redemption and joy.
A Christmas Carol returns to London for the third season in a row. It will run at the Old Vic Theatre from 29 November 2019
to 18 January 2020. This is expected to be one of the most popular Christmas shows of 2019, so it's recommended to book in advance!
Available from 29 November 2019 to 18 January 2020.
White Christmas The Musical
Get ready for one of the best Christmas musicals of 2019. White Christmas The Musical is about a song-and-dance team who put on a show in a Vermont inn and fall for a stunning sister act. Filled with classic Irving Berlin songs, this is the perfect feel-good production for all the family. The show takes place for a limited time at the Dominion Theatre in Central London.
Available from 16 November 2019 to 4 January 2020
Circus 1903
On show for only three weeks, get ready for one of the most spectacular productions of the year. Circus 1903 takes you back to the golden age of circus at the turn-of-the-century. You'll find acrobats, jugglers, trapeze artists, high-wire performers and more. And for this year's production Circus 1903 have teamed up with award-winning puppeteers!
Available from 19 December 2019 to 5 January 2020
Goldilocks and the Three Bears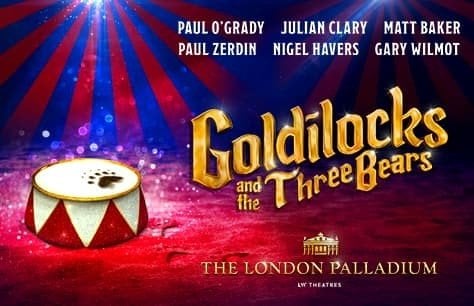 Goldilocks and the Three Bears comes to London in what's set to be the funniest Christmas pantomime this year. This year's performance will be set in a circus, where Goldilocks and her mother face off against an Evil Ringmaster and his rival circus. Expect special effects, hair-raising stunts and impressive circus acts with a star-studded cast including Julian Clary and Matt Baker.
The funniest Christmas theatre show in London this 2019, there will be matinee and evening performances at the London Palladium.
Available from 7 December 2019 to 12 January 2020