Christmas Theatre in London 2023
December 2023
Musicals, Pantos, Plays & More!
Our pick of the best Christmas theatre in London in 2023. Every year sees unique and festive shows come to town, from toe-tapping musicals to classic fairy tales and impressive pantomime. There's something for everyone this Christmas in London, with shows taking place across the capital. This year, Christmas will have an extra sparkle, with beloved shows returning to the stage. Get ready for classic productions of A Christmas Carol, The Nutcracker, The Snowman, Circus 1903, as well as a Jack and the Beanstalk Pantomime, a brand new musical and much more!
Quicklinks:
Christmas Shows – Limited-Runs >>>
A Christmas Carol
A Christmas Carol is based on the book by Charles Dickens, and is brought to life in this version by Jack Thorne. Get into the festive spirit with an adaption to stage of probably the most popular story that Dickens ever wrote. Get ready for a feel-good production of this all-time Christmas favourite!
A Christmas Carol is on show at London's Old Vic Theatre. It will run from 11 November 2023 to 6 January 2024. This is expected to be one of the most popular Christmas shows of 2023, so it's recommended to book in advance!
Available from 11 November 2023 to 6 January 2024.
The Nutcracker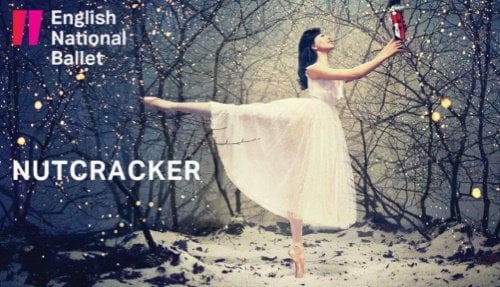 The Nutcracker is the perfect Christmas show for all the family. This feel-good ballet is bound to bring festive spirits to the whole family this Christmas 2023
The English National Ballet has put together a magical production of this timeless classic, including the original Tchaikovsky score. Get ready for this highly-anticipated production at The London Coliseum, with classics like the Sugar Plum Fairy and the Prince, the Snowflakes, the Flowers, the Spanish dance and more. The Nutcracker runs for 2hr 15 minutes with no interval, and tickets are expected to sell out quickly this year!
Available from 14th December 2023 to 7th January 2024.
Elf! The Musical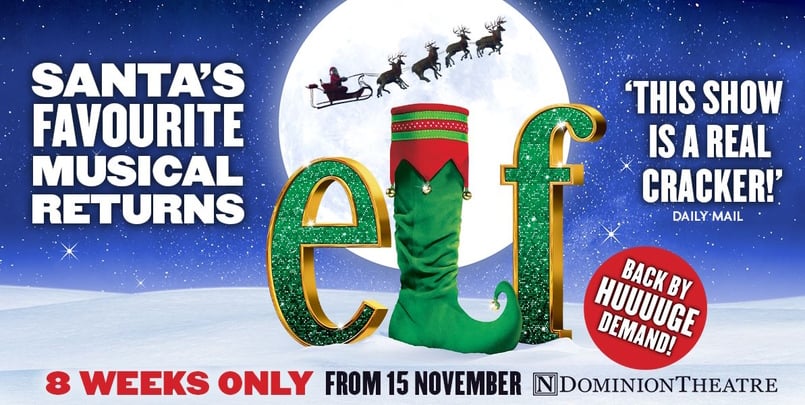 The musical version of Elf! is coming to London this Christmas 2023 for just 8 weeks only! See the stage adaptation of the bestselling cult movie at London's Dominion Theatre. The smash-hit film starred Will Ferrell, and the Christmas musical version is expected to have a star-studded cast as well.
See Elf! The Musical from 15 November 2023 until 7 January 2024 at Dominion Theatre. Book tickets in advance as this is likely to be a sell-out show!
Jack and the Beanstalk
See Jack and the Beanstalk this Christmas with a pantomime production showing at London Palladium. Celebrate the great British pantomime tradition with one of the most famous stories of all time. Together with a first-rate cast, it'll be sure to light up your Christmas.
Dates to be confirmed for Christmas 2023
Peppa Pig: Best Day Ever!
Peppa Pig comes to London this Christmas! Have the best day ever with songs, games and fun. Peppa Pig is so excited. She's going on a special day out with George, Mummy Pig and Daddy Pig. Peppa knows that it's going to be her very best day ever. Miss Rabbit, Mr Bull, Suzy Sheep and Gerald Giraffe will be there with plenty of others!
This year marks the 12th anniversary of Peppa Pig Live, and is showing at Theatre Royal Haymarket. See it live this December.
Available from 30 November to 30 December 2023.
The Snowman
This classic Christmas production of The Snowman is perfect for families with small children. It has been running every Christmas for the past 23 years and is one of the most magical festive treats in London. The Snowman goes on show at the Peacock Theatre
The story begins when a boy named James builds a snowman that comes to life at the stroke of midnight. From here starts an adventure that takes them to the North Pole to meet Santa Claus!
Available from 18 November 2023 to 30 December 2023
Circus 1903
On show for only three weeks, get ready for one of the most spectacular productions of the year. Circus 1903 takes you back to the golden age of circus at the turn-of-the-century. You'll find acrobats, jugglers, trapeze artists, high-wire performers and more. And for this year's production Circus 1903 have teamed up with award-winning puppeteers!
Dates to be confirmed for Christmas 2023
Shows in Previous Years
Pantoland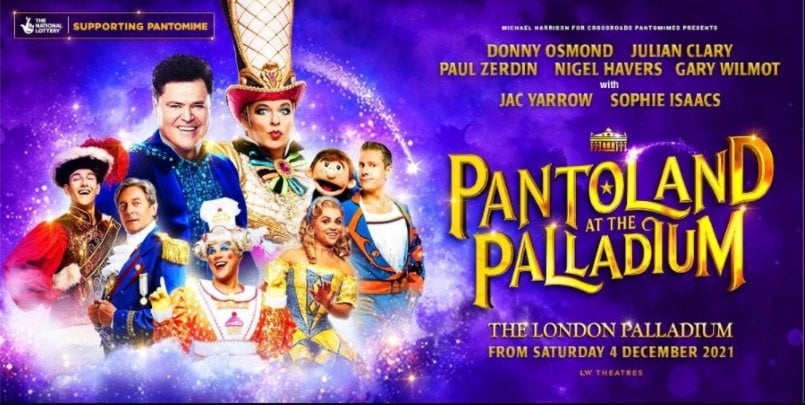 Pantoland returns to the London Palladium for a limited 5 week run this Christmas. Get ready for panto perfection with comedy, laughter and a lot of fun, with some of the biggest names in Pantomime! The perfect show for all the family that runs from 4 December to 9 January.
Get ready for big showstopping numbers and a star-filled extravaganza that is sure to put you in the festive spirit.
Available from 4 December to 9 January 2022
Potted Panto
See 7 classic pantomimes in the space of 70 minutes at The Garrick Theatre this Christmas 2021. Get ready for one hilarious show that's full of non-stop laughter and funny jokes from beginning to end. Enjoy a sweeping tour through all the major panto favourites. This includes Sleeping Beauty, Aladdin, Jack & the Bean Stalk, Cinderella, Dick Whittington and A Christmas Carol!
Potted Panto returns for its 11th-anniversary production. Previous cast and creatives included Daniel Clarkson, Jefferson Turner, Jacob Jackson, and Charlotte Payne. With very few pantos taking place this Christmas, this one is likely to sell out fast!
Available from 11 December to 9 January 2022
Aladdin Pantomime
Aladdin returns in 2021 for the Christmas season, this time as a lyric pantomime production! You've never seen Aladdin like this, with all your favourite Aladdin characters on stage with a funny Lyric twist. Aladdin, Jasmine, and Genie are comin' to London town! The show is available from 19 November 2021 until 2 January and is expected to be in high demand!
Available from 19 November until 2 January 2022
Bring It On Musical
Bring It On: The Musical transfers to London for this Christmas. Based loosely on the 2000 film of the same name, it's going to be sexy, cute and popular to boot'.
Cheer-royalty Campbell, who's recently been passed the torch as Squad Captain, should be looking forward to a cheermazing senior year at Truman High. But when she's zoned out of her school district and forced to attend the neighbouring hard-knock Jackson High, Campbell fears her dreams of living the high life as Queen Bee have come crashing down. But an unlikely friendship places Campbell back into the game with a powerhouse squad and the passion to take on the impossible.
Available from 8 December to 22 January 2022
La Clique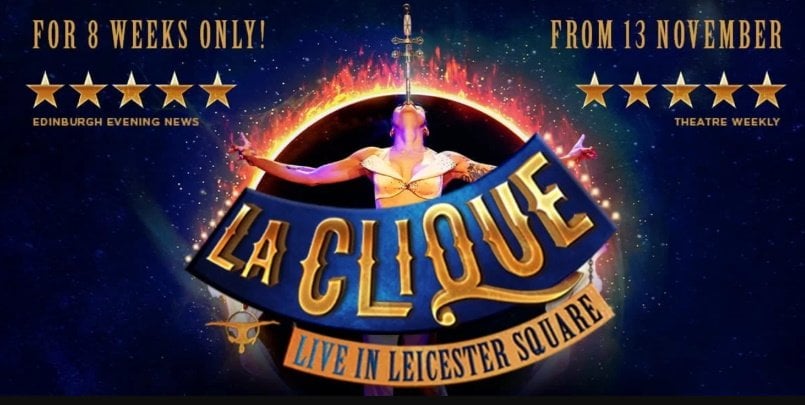 La Clique comes to London's Leicester Square for 8 weeks only this Christmas. See the saucy and scintillating show with its unique combination of cabaret, circus and comedy. This year will see new acts alongside many classic performances. Accompanied by La Clique Palace Orkestra, get ready for a unique night out!
Available from 13 November to 8 January 2022
Matthew Bourne's Nutcracker!
Prepare yourself for Tchaikovsky's Nutcracker but with a twist in this sensational danse production brought to you by the legendary producer Matthew Bourne. Get ready for a Nutcracker like no other with festive dancing combining magical fantasy with wit and humour to make the ultimate feel-good Christmas show.
Available from 7 December to 30 January 2022
The Play that Goes Wrong
The Play That Goes Wrong is showing at the Duchess Theatre this December 2023. Just in time for Christmas, this roaring comedy is sure to lift your spirits, described as a cross between Fawlty Towers and Noises Off.
The Cornley Polytechnic Drama Society is putting on a 1920s murder mystery, but as the title suggests, everything that can go wrong… does! The accident-prone thespians battle against all odds to make it through to their final curtain call, with hilarious consequences!
White Christmas The Musical
Get ready for one of the best Christmas musicals, White Christmas The Musical is about a song-and-dance team who put on a show in a Vermont inn and fall for a stunning sister act. Filled with classic Irving Berlin songs, this is the perfect feel-good production for all the family. The show takes place for a limited time at the Dominion Theatre in Central London.
Mischief Movie Night
See the improvised movie live on stage, starring them and directed by you! You suggest a genre, location and title and the Mischief improvisers will bring the show to life! A comedy blockbuster on show at the Vaudeville Theatre this Christmas. Don't miss it!
Christmas Drive-In Panto: Cinderella
The ultimate drive-in experience comes to London this Christmas with a Cinderella Panto Show! Get ready for a professionally produced live production of Cinderella, broadcast across two massive screens! A group of nine professional actors will melt hearts as audiences follow Cinders on her adventures, helped by the Fairy Godmother.
The perfect night out for all the family brought straight to your car! The show is held at London's Syon Park (near Kew Gardens).
Goldilocks and the Three Bears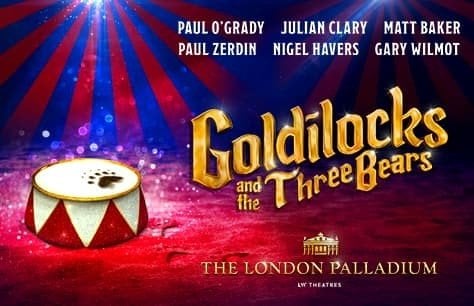 Goldilocks and the Three Bears comes to London in what's set to be the funniest Christmas pantomime this year. This year's performance will be set in a circus, where Goldilocks and her mother face off against an Evil Ringmaster and his rival circus. Expect special effects, hair-raising stunts and impressive circus acts with a star-studded cast including Julian Clary and Matt Baker.
The funniest Christmas theatre show in London, there will be matinee and evening performances at the London Palladium.