Best Way to See London in a Day
Here are four suggestions of the best ways to see London in a day, from using a simple and inexpensive 'Hop on Hop off Bus' and creating your own tour to taking a 'Fully Guided Day Tour.'
The Hop on Hop Off Bus with Optional River Cruise
This is the least expensive way to enjoy getting around London in a day. There are 5 routes, all conveniently designed to get you next to or very close to nearly all the major tourist attractions. There are over 80 bus stops, and you can easily switch between the routes as they crisscross each other. The routes are all circular and the Blue Route has a live guide. By staying on the blue route for one entire circuit, you will pass a substantial number of famous London sites as part of your low cost single day in London. Family Tickets offer further discounts and will help keep your holiday costs down.
Hop on Hop off Bus, 3 Attractions & River Cruise
This package offers a great way to see London in one day with attraction tickets included. It offers great value for money with tickets to The London Eye, Madame Tussaud and The Sea Life Aquarium. We would strongly recommend booking in advance, especially during peak season as entry to each of the three attractions is timed and you will need to be able to book an early morning, mid-day and late afternoon slot to cover all within a day. If you spend more than a day in London, you can choose to take the second and third attractions as well as take the cruise on your second day.
Hop on Hop of Bus, London Eye, Tower of London & River Cruise
This is another money-saving package that includes 2 of London's most popular attractions and again represents great value for money for your day trip in London. Booking early to get the best time slots is strongly advisable. If you are spending more than a day in London, then you can visit the second and third attractions as well as the river cruise on your second day.
Fully Guided Tour incl. London Eye & The Tower of London, Changing of the Guard at Buckingham Palace and River Cruise
This tour offers a fully guided day tour of London travelling in a luxury coach and with a professional tour guide. The tour includes seeing the Changing of the Guard at Buckingham Palace, tickets to the London Eye, The Tower of London and St Paul's Cathedral. You will enjoy a coach tour through London, passing sites such as The Houses of Parliament and Westminster Abbey with live commentary from your tour guide. It also includes a cruise along the River Thames. This tour is a very full day in London lasting 10 hours so it really cannot be beaten if you want to see as much as possible in a day.
Places to Visit in London
Trafalgar Square:
Trafalgar Square is one of London's main focal points and is dominated by Nelson's Column atop of which is the statue of Admiral Horatio Nelson, the legendary British sailor. On the north side of the square are two of London's major art museums, the National Gallery and the National Portrait Gallery. Entry is free.
Buckingham Palace, The Queens Gallery and The Royal Mews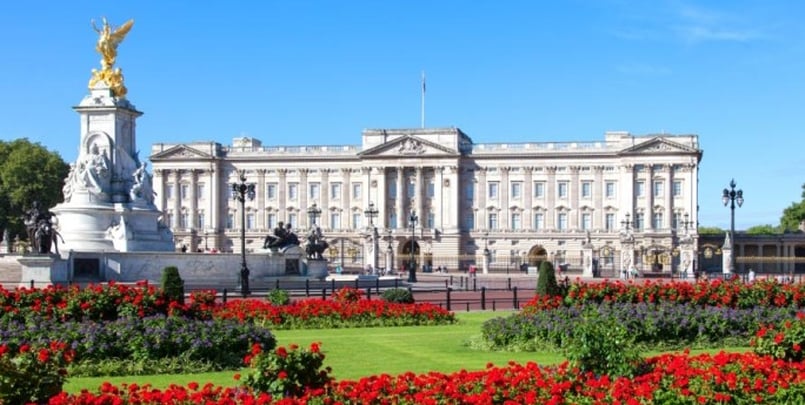 Buckingham Palace is the official London residence of King Charles III and Queen Camilla. The Palace was built in the 1820's by King George IV. This iconic landmark has been the focal point for numerous historic events, ceremonies, and royal celebrations. Do not miss the Changing of the Guard ceremony which is a spectacular event with its red-tunic marching soldiers and military band. This is an absolute must see.
Buckingham Palace is open to visitors during the summer months. More info: See here >>>
The Queens Gallery, with permanent and special exhibitions, showcases some of the spectacular royal art collections. The Queens Gallery is open to visitors daily. More info: See here >>>
The Royal Mews is where the royal household horses are stabled and state carriages and classic motor cars are housed. The Royal is open between March to October More info: See here >>>
Big Ben, The Houses of Parliament and Westminster Abbey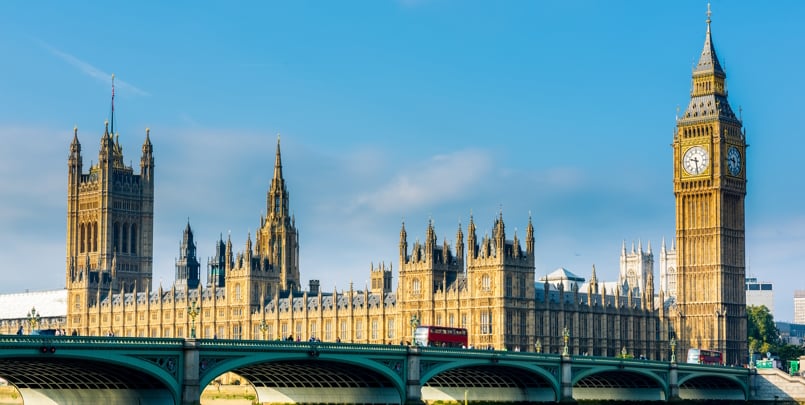 Big Ben & The Houses of Parliament.
The Houses of Parliament, also known as the Palace of Westminster, is situated alongside the River Thames. This iconic structure is home to the two houses of the British Parliament, the House of Commons and the House of Lords, and is renowned for its Gothic architecture and the distinctive clock tower known as Big Ben. Big Ben is a symbol of London and its chimes have marked the passing of time for over 150 years, becoming synonymous with the city's rich history and political significance.
Westminster Abbey
Westminster Abbey, is a masterpiece of medieval architecture. With its stunning Gothic facade and intricate interior, the abbey has served as the coronation church since 1066 and has hosted numerous royal weddings and state ceremonies. It is also the final resting place of many notable figures, including monarchs, poets, and statesmen, making it a poignant symbol of British history and cultural heritage. More info: See here >>>
The London Eye
As you cross over Westminster Bridge by the side of Big Ben you reach  The London Eye. This is one of the best and most popular ways to see London with amazing amazing view of the River Thames stretching both North and South and across to the Houses of Parliament and far beyond. More info: See here >>>
The Tate Modern and Shakespeare's Globe Theatre
Continuing on past the London Eye to:
The Tate Modern
Tate Modern, situated on the banks of the River Thames, is one of the world's leading contemporary art museums. Housed in a former power station, the museum's industrial architecture provides a unique setting for an extensive collection of modern and contemporary art. With works by renowned artists such as Picasso, Warhol, and Hockney, A must for all art lovers. Entrance is free.
Shakespeare's Globe Theatre
Shakespeare's Globe Theatre is a reconstruction of the original Globe, where many of William Shakespeare's plays were performed during the Elizabethan era. From the thatched roof to the open-air design, the Globe Theatre provides a glimpse into the theatrical world of Shakespeare, attracting audiences from around the globe to witness the timeless magic of his works.
Tower Bridge and The Tower of London
Tower Bridge
Tower Bridge, is one of London's most iconic landmarks. Completed in 1894, Its unique design allows the central section to be raised to allow tall ships to pass. As you cross the Bridge enjoy stunning panoramic views of the city and River Thames. You can visit the Bridge museum and walk the pedestrian gangway.
The Tower of London
The Tower of London, This vast historic fortress has played a central role in British history for over 1,000 years. Originally built by William the Conqueror in 1078, the tower has served various purposes, including a royal palace, prison, and treasury. Its iconic White Tower, surrounded by defensive walls and towers, houses the Royal Armouries and offers a glimpse into medieval military history. The Tower is perhaps most famous for housing the British Crown Jewels, More info: See here >>>
St Paul's Cathedral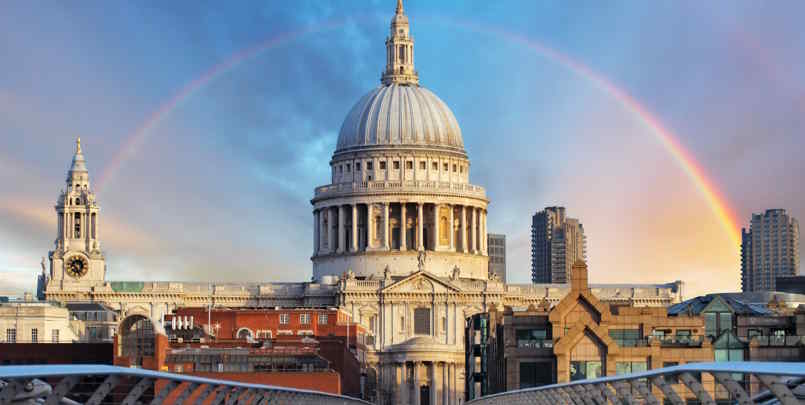 St. Paul's Cathedral, an architectural masterpiece designed by Sir Christopher Wren, Completed in 1708, the cathedral's iconic dome dominates the city skyline and has been a focal point for centuries. Visitors can climb to the Whispering Gallery for a unique acoustic experience or ascend further to the Golden Gallery for breathtaking panoramic views of London . Numerous historic events have taken place here including the funerals of  Sir Winston Churchill and Lord Nelson. Additionally, royal weddings, such as that of Prince Charles and Lady Diana in 1981, have taken place within its awe-inspiring interior. More info: See here >>>
The British Museum
The British Museum was established in 1753; it houses a vast and diverse collection of over eight million objects, ranging from ancient artifacts to contemporary pieces. Notable exhibits include the Rosetta Stone, the Elgin Marbles, and the Egyptian mummies, making the museum a treasure trove of global heritage. Entrance is free.
We hope that this has given you some ideas of places to visit. We strongly recommend planning your day ahead of arrival and purchasing tickets to attractions in advance as many attractions have timed entry slots and the most popular times will sell out early, especially during peak holiday times. With most, you can cancel with a full refund. You can see cancelation policies on all tour and attraction pages.