Best Stonehenge Tours from London 2023
Our pick of the best Stonehenge tours from London according to our in-house expert tour curators with years of experience. There are so many different tours to Stonehenge, that sometimes it can be overwhelming to choose the right one for you! Our list of the best Stonehenge tours from London includes some of the unique ways of discovering the site, including at sunset, and we highly recommend one of our top 3 Stonehenge tour suggestions. Alternatively, there are many full day tours of Stonehenge from London that combine a trip to Stonehenge with other nearby sites such as Bath, Windsor Castle, Oxford, and Salisbury.
Did you know?
Located a few hour's drive from Central London and is one of the most popular places to visit in the UK. Each year thousands of visitors come to admire this ancient Neolithic site, considered to be one of the most mysterious places in the world.
Our Top 3 Stonehenge Tours:
1. Stonehenge Direct Tour
For those looking for the easiest way to get to Stonehenge from London, our low-cost direct bus to Stonehenge is available every day departing Central London in the morning or afternoon. The visit to Stonehenge is self-guided, and an excellent audio guide is provided with commentary available in multiple languages. Starting from just £52 per person, this is the best value for money way of getting to Stonehenge from Central London.
2. Stonehenge Day Tour with lunch
This is the perfect tour for those looking for a rich and diverse day trip from London. Our tour combines the mysticism of Stonehenge with great British heritage at Windsor Castle, beautiful English Georgian architecture at Bath and the picture-postcard village of Lacock. The perfect tour if you are looking for a true taste of England. It also includes lunch at Lacock a 14th Century pub.
Our Stonehenge Day Tour with lunch operates with daily departures from Central London. The tour includes luxury transportation, lunch and a professional tour guide.
3. Stonehenge Small Group Tour
Our bestselling small group tour to Stonehenge. The tour operates with a maximum of 16 passengers which is ideal since it allows for greater interaction with our expert tour guide. Whilst more expensive than most Stonehenge tours, we think that the small group experience makes it well worth it!
We pick-up at three different departure locations in London which are situated near the major hotel districts. We use minibuses that are optimized for sightseeing, so no matter where you sit on the bus you'll get a great view of the countryside. This is a full-day Stonehenge tour that includes a visit to Windsor Castle and Bath.
Best Small Group Stonehenge Tours:
1. Small Group Tour to Stonehenge & More
Join our small group day tour from London with a maximum of 16 passengers. It includes entrance to the Roman Baths, a tour of Stonehenge and a taste of the Cotswolds with a visit to the village of Lacock and a drive through the Cotswolds countryside. The tour is available every Tuesday and visits Stonehenge first before the crowds arrive.
2. Small Group Stonehenge Tour with lunch
Join our small group Stonehenge tour with lunch. Enjoy a 2-course lunch at Stonehenge and see the world-famous stone circles. The tour also includes entrance to Windsor Castle. Travel in a small group of 17 guests or less in a luxury air-conditioned coach with a professional guide.
3. Small Group King Arthur Tour & Stonehenge
Learn about the legends of King Arthur on this small group King Arthur Tour visiting Stonehenge, Glastonbury & Avebury. Travel in an intimate group of up to 16 people that departs every Monday and Friday from Central London. As well as a visit to Stonehenge, you'll visit Glastonbury Abbey which is connected with the Arthurian tales and legends. This bestselling tour also includes a visit to the beautiful gardens at Chalice Wells and some breathtaking sweeping views over the English countryside from Glastonbury Tor.
Best Stonehenge Inner Circle Tours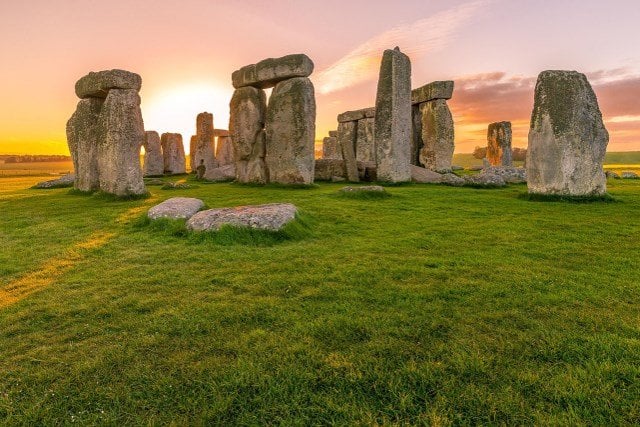 This is the best way to see Stonehenge because you'll get special access to enter inside the inner circle. Most Stonehenge tours only include a viewing from afar, and you don't get to enter the stone circle. These exclusive tours take place at sunrise or sunset, before Stonehenge opens to the general public.
Stonehenge inner circle viewings are not available during the winter period. Since the tours include a viewing of the inner circles, they are very popular and get sold out fast.
1. Stonehenge Inner Circle Tour at Sunrise or Sunset
Our Stonehenge inner circle tour is available from March to September. It also includes a visit to the Roman Baths and the Cotswolds town of Lacock. Sunrise or sunset is one of the most extraordinary times to visit Stonehenge since the sun has a way of casting a mystical spell over the site. Choose between a basic ticket and a ticket that includes dinner in Lacock. The tour includes transportation and a professional guide.
2. Stonehenge Inner Circle Tour at Sunrise
See Stonehenge with special access to the inner circle tour at sunrise. The tour departs from London in the morning and is a detailed Stonehenge tour led by an expert guide. You'll get to see the Durrington Walls, inner circle, barrows, and free time at the visitors centre. You'll come away from the trip feeling like a true Stonehenge expert!
Best Stonehenge Tours According to Touring Style
We offer over 8 tours to Stonehenge and surrounding locations. Whilst some people like a fast pace tour that covers lots of different places, others prefer a slower touring style that focuses on a few specific attractions. We would suggest the following tours according to your travel style:
1. Faster Paced Tour with Stonehenge
For those looking for a full day taster experience, including a visit to Stonehenge, we would recommend our Stonehenge, Windsor Castle & Oxford tour. This is perfect if you want to get a good taste of England, and are happy to spend a short amount of time at each location in order to see as much as England as possible. One of our best Stonehenge tours from London, this tour combines history, archaeology, architecture and heritage. It spans the Neolithic period all the way to the Roman and the Middle Ages and through to the Gothic period and modern day Britain.
2. Slower Paced Tour with Stonehenge
For those looking for a slower pace full day from London, we would recommend our Stonehenge & Bath day tour. By visiting just two places this gives you more time to fully appreciate each site. When visiting Bath, you also have the opportunity to set your own pace according to your tastes and interests. Bath is known for its excellent restaurants, cafes, gorgeous architecture, ancient Roman baths, and magnificent Bath Abbey.
Private Stonehenge Tours:
Tourist England also offers the best private tours to Stonehenge from London. Our dedicated team are here to build the perfect tour that suits your interests. Choose to combine a visit to Stonehenge with other nearby attractions and take any one of the itineraries listed above.
What to Expect on a Stonehenge Tour:
Stonehenge tours from London come in many different shapes and sizes. From the most basic half day Stonehenge tour to tours that combine a Stonehenge visit with other nearby attractions and truly unique experiences such as the sunrise tour. We offer a great selection of the best Stonehenge tours from London that will suit your interests and passions. Below are a few more additional details that might give you greater insights into what to expect on a visit to the Neolithic site, as well as practical information about the tours, the audio guides and the Stonehenge cafe. For more information and questions check out our travel information page or please feel free to contact us and one of our dedicated staff members will be happy to answer!
Departure Point:
All large group Stonehenge tours depart from Central London at London Victoria Coach Station. This is the major centre for coach tours departing from London. It is easily accessible as it is located next to Victoria station, which is serviced by the London underground and overground trains.
The departure point for small group tours varies, and they do not always depart from Victoria. Many of our small group tours offer a choice between three different pickup locations that are located near major hotel districts.
Transportation:
All our large tours use luxury coaches that are fully fitted out with air conditioning and free wifi. Our experienced drivers will greet you at London Victoria coach station and will be your dedicated driver throughout the day. Occasionally, during peak season, we might put on extra coaches that do not use wifi.
Most of our small group tours are fitted with free wifi and have been customized to maximize your touring experience with extra large windows.
Professional guide:
All Stonehenge tours (with the exception of the half-day Stonehenge visit) come with a professional guide who can provide information en route to Stonehenge. However, they do not provide guiding from within the site, with the exception of the inner circle Stonehenge tours. We choose tour guides that are not only extremely knowledgeable about Stonehenge but are also really passionate about the subjects and work hard to make your day as enriching as possible, giving you the best Stonehenge experience!
Stonehenge Cafe:
The Stonehenge Cafe sells food and drink, with gorgeous views over the Stonehenge landscape. The café serves soup, vegetarian and traditional pasties, sausage rolls, sandwiches, salads and wherever possible uses locally sourced produce. The cafe also accommodates various dietary requirements including vegetarian and gluten free options. Some of our best Stonehenge tours from London include lunch at the cafe, where you can choose from one of these delicious options.
Inner Circles:
There are a few, highly exclusive, tours to Stonehenge from London that include a private viewing of the inner circles. Most people don't realize that most of the bus tours to Stonehenge only include a visit to Stonehenge from afar, and this can be rather disappointing to the more avid and enthusiastic Stonehenge admirers. Whilst extremely exclusive, there are several inner circles that will get you a far better perspective and viewing of the site.
Audio Guides:
There are two options available for audio guides. Audio guides are available on the site and are included as part of your tour. These excellent guides are available in several languages including English, French, Italian, Spanish, German, Japanese, Mandarin, Russian, Dutch and Polish. Alternatively, Stonehenge offers a free audio tour that can be downloaded onto your smartphone via the App Store or Google Play store.
What to Expect:
Stonehenge is an ancient Neolithic site that dates back over 4,000 years. It is considered to be one of the great wonders of the world and attracts thousands of visitors each year to come to marvel at the magic of the site. Nobody is quite sure why the site was constructed, and what the stone circles were used for. Some suggest it was used for religious ceremony whilst others have suggested for burial. The site is still used by pagans and druids, who descend on the site for the equinox. You can read more about it on the official Stonehenge website. Our Stonehenge tours take to you the site, and one of our dedicated tour guides will explain the rich history and heritage of this celebrated British monument along the way.
Stonehenge is located in the heart of the English countryside in a region called Wiltshire, about 90 miles from Central London. The drive from London takes you past some of the typical rolling hills and windy lanes that characterize the English countryside and are a marked change from the hustle and bustle of the city. On arrival, collect your entrance ticket, make sure to take an audioguide, and head straight to the Stonehenge bus. This is a free shuttle that takes you from the visitors centre directly up to the stone circle.
Did you know?
Stonehenge is one of the most significant prehistoric monuments in England that dates back to 3100bc. At this time, ditches and holes were constructed as part of religious ceremony. By 2150bc, 82 stones, each weighing 4000kg were brought to the site, covering a journey of over 250 miles. They were then arranged to form an incomplete circle. Finally, about 2000bc more stones were brought to Stonehenge, this time from about 25 miles away, to form an outer circle, which was later rearranged into a circle and a horseshoe shape which is what we see today.
Approaching Stonehenge
As the shuttle bus rises above the hill, you'll immediately be struck by the sheer scale and size of Stonehenge. The stones have stood in this place for over 5,000 years, and whilst they are not perfectly intact, it's impressive how well they have survived.
Did you know?
Many today debate why Stonehenge was built, with suggestions ranging from a place of worship to a coronation place for Danish kings and a centre for healing. The most widely accepted account is that this is an ancient temple aligned with the movements of the sun.
We even asked travel blogger Laura from Savored Journeys, what she thinks about Stonehenge. She answered:
"Stonehenge is one of those historical attractions that you must see at least once in your life. It is an impressive sight to see, but it also has a compelling mystery behind it. We may never know why or how it was built, but half the fascination is learning about the theories and assumptions we've made about why and when this circle of stones came to be."
Standing Infront of Stonehenge
Follow the footpath which snakes around to the right, and you'll get to go quite close to the stones. Bear in mind that you are not actually allowed to enter inside the stone circle unless you take a Stonehenge inner circle tour. Due to conservation reasons, the area immediately surrounding the stones is very fragile and therefore access is restricted. However, even from a small distance, Stonehenge is an impressive feat to marvel at!
Top tip: If you really want to get up close to the stones, then take a look at our Stonehenge inner circle tours at sunrise or sunset. This gives the best views of the stones! Unsurprisingly, the number of special access tickets available are extremely limited, and so this tour gets sold out months in advance. Book ahead to avoid disappointment!
Stonehenge at All Angles
The path around the stone circle is clearly marked, and there are plenty of information points along the way that tie into the audioguide. These useful maps, diagrams and pictures, along with audio information, help to chart the history of Stonehenge and explain in detail what you are looking at. They even try to provide answers to some of the biggest mysteries that surround the site.
Top tip: The path around Stonehenge is at times unpaved and so gets muddy, especially in the wintertime. Make sure to wear appropriate shoes that are fit for outdoor wintry conditions.
Visitor Centre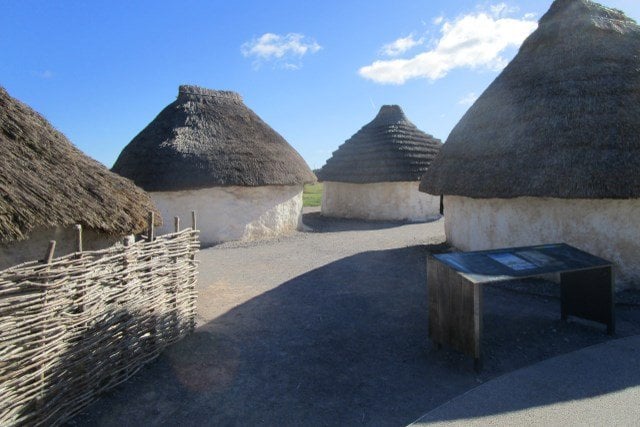 Having finished exploring the stone circle, take the shuttle bus back to the visitor centre. Here, you'll find several rooms that link Stonehenge to its surroundings. There are ancient artefacts and archaeological finds that come from Stonehenge and the nearby hills. From pottery to human remains, the exhibition helps to put the site in context. There's even a reconstruction of what a typical Neolithic Village would have looked like. You can go inside these structures, and get a feel for Neanderthal life!
The visitor centre also includes a Stonehenge inspired gift shop, with a choice of plenty of shirts, mugs, keyrings and notepads decorated with a picture of the stone circle.
Choose When to Visit
The actual experience at Stonehenge really depends on the weather, the time of the day and the season you choose to visit. Some of the most spectacular ways of experiencing Stonehenge include at sunrise or sunset, where the light begins to peek between the stones, and gives off an atmosphere that can be difficult to describe in words! It's at these times that Stonehenge gets its nickname of being "mysterious", "otherworldly" and "spiritual". We discuss the best times to visit Stonehenge in this article.
Top tip: Make sure to wrap up warm! The temperatures can be very deceptive, as Stonehenge is located on top of a hill, and is exposed to the elements. Expect strong winds and a chilly breeze, even on days where it might seem quite mild.
What do Bloggers Say About Stonehenge?
The mystical stone circles are famous worldwide and have inspired generations of travelers. We even asked several leading travel bloggers to describe how they feel about Stonehenge. They answered:
Nick from Goats on the Road:
"I personally feel that Stonehenge is such an iconic scene in England that any tourist will want to see it. Our friends from Brighton said to us: "It's just a pile of rocks, why would you want to go out there?". But for tourists there's a different significance to these neatly placed astrological stones. We have seen it on TV and in the media and aside from perhaps the Tower Bridge, Big Ben, Buckingham Palace and the Queen herself, Stonehenge may be one of the most recognizable scenes we know of England. After having been to the "pile of rocks", I would definitely say that it's worth visiting."
Emily from Kids and Compass:
"I've loved Stonehenge ever since I was a child. Some people say it's overhyped but I couldn't disagree more. Stonehenge is a beautiful structure which sits perfectly in the stark Wiltshire countryside. The mystery surrounding its use and the people who built it only adds to its romantic appeal. Although you can get a good look at it from the nearby road, to really appreciate Stonehenge you need to get up close and walk around it, and the new visitor centre has some fascinating insights into the lives of Neolithic people."
Jen from Travel with Curves:
"Stonehenge remains one of my most memorable travel experiences, and why wouldn't it? This is an ancient place exuding mystery and distinction like none other. It's one we all read about as children but few of us get to see in person. Walking the path toward the stones and seeing the monument come into view for the first time was one of those "pinch-me" moments I'll never forget. Even so, Stonehenge deserves a repeat visit to truly appreciate."
Sven from Never Seen Before:
"Stonehenge is definitely worth a visit! It's on most people's bucket list for different reasons. For us it's because there are so many myths out there and the best way to get a picture of what's behind all these sagas is to visit it in person. We spent some time at the stone circle and felt a very special atmosphere. This place is definitely worth a visit and we are glad that we had this opportunity a few years ago."
Ellie from The Wandering Quinn:
"Whilst I love visiting tourist attractions when travelling abroad until recently I had never visited Britain's most iconic and mysterious landmark. I decided to take a tour bus to Stonehenge and the guide told us so many interesting facts about the stones along the way. I also like that there is a barrier around the stones, because not only will this help preserve them but also, from a blogger perspective, it made it so much easier to get a great shot of Stonehenge without any people in it!"
Lex from Lex & Zach Travel:
"If you're visiting England, Stonehenge is a must-see; The site itself is breathtaking, and while circling the stone structures you get a new perspective on the majesty of human history and the incredible engineering feat of almost 5,000 years past. The site is surrounded by sheep and farmland as far as the eye can see, also majestic to soak in on the walk back. Being amidst the stones and taking in the history, Stonehenge can easily occupy several hours of your time, very well worth it, so plan for a full day!"
Matt from Tourist England:
"There really is nothing quite like Stonehenge. Its beautiful stillness seems to cast a mythical spell over the whole area that makes time stand still. A UNESCO World Heritage Site and an incredible feat of engineering, it's no wonder that this is one of the most visited tourist attractions in the UK and Stonehenge is one of the best tours from London."