Best English Garden Tours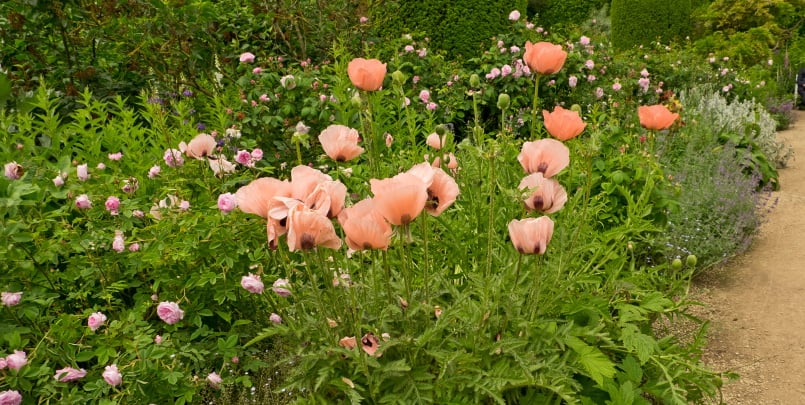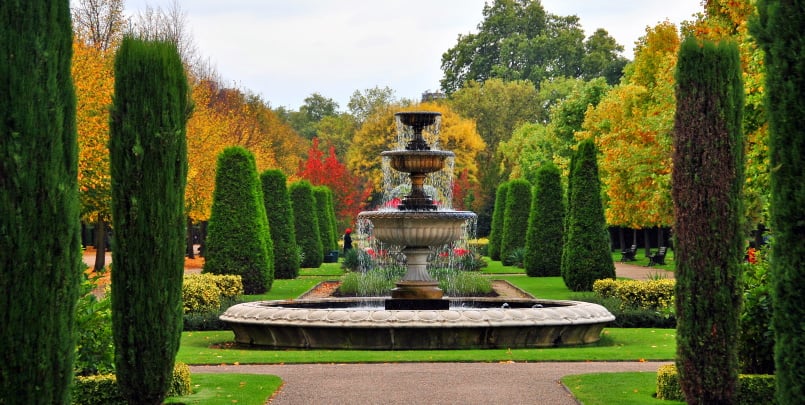 Our pick of the best English Garden Tours. From magnificent rose gardens to spectacular country estates and castles, see the best of English gardening! Most of the tours take place during the Chelsea Flower Show in May, combining a visit with a package tour exploring gardens across England. Due to high demand and limited availability, it's recommended to book these tours well in advance.
English Garden Tour from London – 1 Day
Visit Sissinghurst!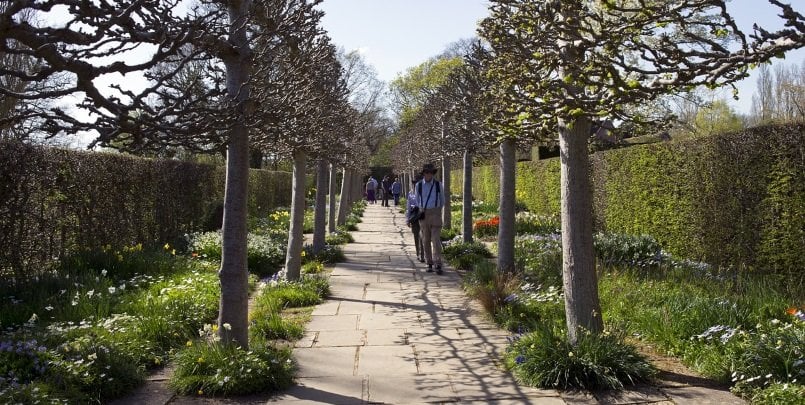 Our English garden day tour from London is the perfect way to explore some of the spectacular gardens of Southern England. This is a private tour led by a guide who specializes in English gardens. We will pickup and dropoff from your hotel in London, and you can choose from a variety of different vehicle sizes.
Start the day with a visit to Sissinghurst, the most famous 20th Century garden in England created by Vita Sackville-West and Sir Harold Nicholson. The garden has had a profound influence on English garden design and is a must-see for garden enthusiasts. We continue to Sheffield Park which is an informal landscape garden originally laid out in the 18th Century by Capability Brown. It's considered a horticultural work of art. Finally visit Wakehurst, a wild botanic garden with the world's largest seed conservation project that is managed by the Royal Botanic Gardens Kew. Alternatively, choose to visit Nymans, an intimate garden set around a romantic house and ruins with rare and unusual plant collections.
Availability: Daily as a private tour
More information: Contact us
English & Welsh Garden Tour – 15 Days
Including Chelsea Flower Show!
This 15-day package tour explores the gardens of England and Wales. It's the best tour if you are looking to combine a visit to the Chelsea Flower Show with an extensive trip exploring the gardens of England and Wales. The tour includes premier accommodation, with transportation in a 40-seater luxury coach.
Starting in London, enjoy a full day at the Chelsea Flower Show, the world's greatest floral display and spend the next two days exploring the glorious gardens in London. From here journey around England, starting in southern England and travelling all the way up to northern England and into Wales. You'll experience the magnificent countryside, visit picture-postcard villages, enjoy afternoon teas and more! Discover some of the most beautiful gardens including RHS Wisley, the Lost Garden of Heligan and Bodnant Gardens. The package tour also includes a day at the Chatsworth RHS Flower Show, as well as a trip to the UNESCO World Heritage Site of Blenheim Palace.
Availability: May
For more information: See here
Chelsea Flower Show Tour – 7 Days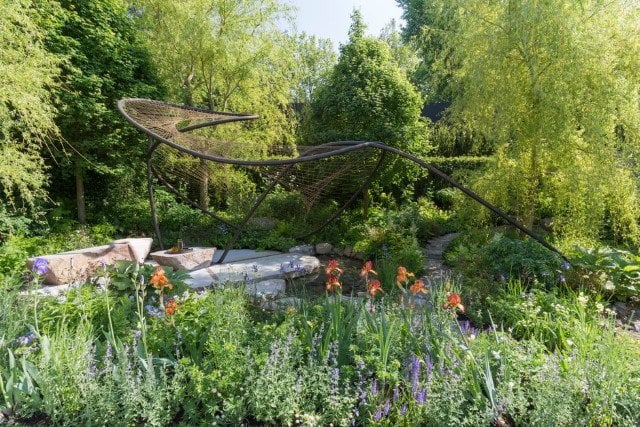 This tour takes you to some of the most beautiful English gardens in and around London. It's the best tour for those looking to spend a week in the UK during the Chelsea Flower Show. Discover the best of the English countryside, on a small-group excursion. Highlights include visiting Sissinghurst, Great Dixter, RHS Wisley and Kew Gardens. You'll also visit the gardens at Hever Castle, Hampton Court Palace and Windsor, as well as the French-style gardens at Waddesdon Manor. End the week with a full-day spent at the Chelsea Flower Show.
This is a small-group tour with a maximum of 18 passengers and includes 6-nights in boutique accommodation. It takes place during May, starting and ending in London.
Availability: May
More information: See here
Hampton Court Flower Show & English Gardens Tour – 7 Days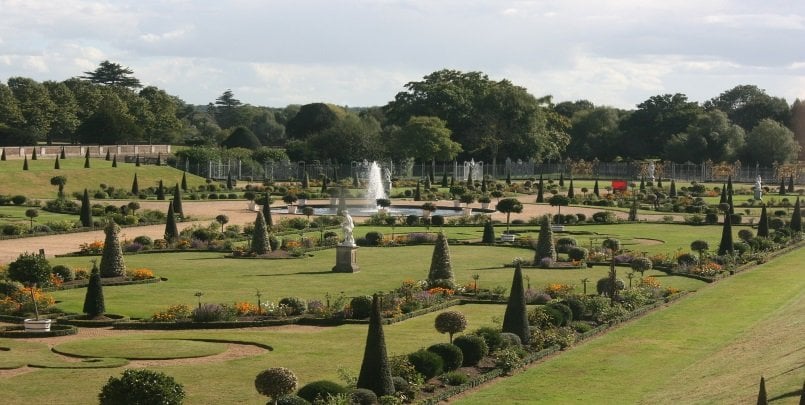 This is the best tour for those looking to combine a visit to the Hampton Court Flower Show with an English garden tour. It's a small-group trip with a maximum of 18 passengers, including accommodation and some meals. The tour takes place during July but has limited availability, so it's recommended to book in advance.
Spend seven days visiting the prettiest gardens in England. See the iconic roses as Sissinghurst Castle Garden and explore the rock garden and Alpine Meadow at RHS Garden Wisley. Feel like a royal in the Savill Garden in Windsor Great Park and enjoy an afternoon tea river cruise. Spend a morning at Waddesdon Manor, a French château built by the Rothschilds, followed by a visit to the colourful gardens at Cliveden.
Availability: July
For more information: See here
Gardens of England & Europe Tour – 18 Days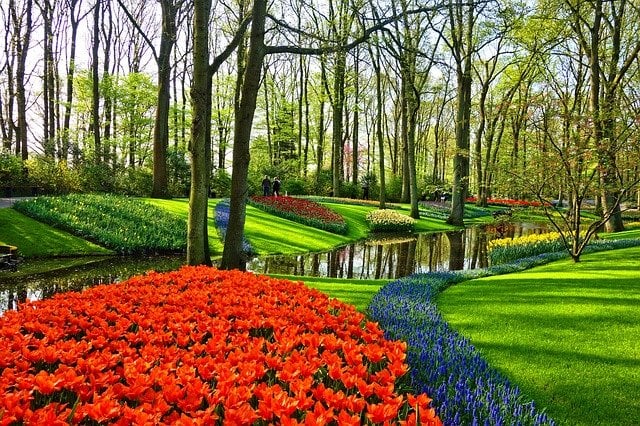 Including Chelsea Flower Show!
This 18-day trip of a lifetime takes you through the heart of Europe and ends with a visit to the Chelsea Flower Show. You'll visit a total of 8 countries, including the Netherlands, Belgium, Germany, Italy, France and England. The tour includes accommodation in premium hotels, transportation in luxury coaches and an expert travel director. It operates during May.
Start the tour in Amsterdam with a visit to one of the world's largest flower gardens at Keukenhof, and see the Flower Auction in Aalsmeer. As we make the journey through Europe, you'll get to see the fairytale castle of Neuschwanstein and the Royal Palace at Innsbruck. The Italian Lakes and Swiss Alps makes for the perfect place to relax and unwind before we make our way to Paris. Here, you'll get the chance to explore beautiful French gardens, including Versailles. The final leg of the tour includes 3 days in England where you'll explore the gardens of Sissinghurst and RHS Wisley. End the tour with a full-day at the Chelsea Flower Show!
Availability: May
For more information: See here
About the English Gardens
Chelsea Flower Show
The worlds greatest flower show that attracts over 150,000 visitors each year. The British Royal Family regularly attends this event, which is one of the highlights of summer in London. The Chelsea Flower Show celebrates the best of English gardening as well as exhibits representing gardens from around the world. In recent years, the show has explored themes such as climate change, and has attracted many famous celebrities and public figures. It is an unmissable event for any garden lovers!
Kew Gardens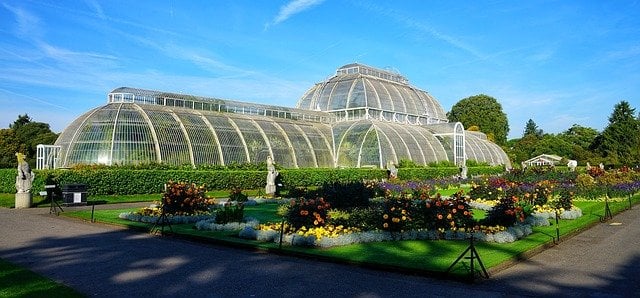 These botanical gardens contain over 8.5 million items, and are amongst the greatest botanical gardens in the world. Kew Gardens is a designated World Heritage Site. and you'll find 50,000 living plants which is the largest and most diverse collection on the planet. Visitors can explore the many different gardens and greenhouses and learn about important science and conservation work.
RHS Garden Wisley
RHS Wisley is the second most visited garden in England, after Kew Gardens. It covers an area of 240 acres and is the flagship garden of the Royal Horticultural Society. Highlights include the Rose Garden, Oakwood and Rock Garden. The Glasshouse houses over 5,000 different varieties of tropical plants and there's even a waterfall!