5 Unique Open Top London Bus Tours with a Twist! May & June 2021
We're putting on some unique open top bus tours this May & June 2021, all with natural ventilation and all with a twist! Available in May and June, we've got you covered with a musical theatre open top tour, a comedy night bus tour, as well as a vintage Routemaster tour, a nighttime bus and even a private hire open top bus!
Available to book from 28 May 2021
1. Musical Theatre Open Top Bus
Join our musical theatre open top bus tour and listen to songs from your favourite musicals performed by a live singer! All this as you sit back onboard our open-top bus taking in your favourite city sights.
Book Now: Musical Theatre Open Top Bus
2. The Night Bus – with live guide!
Rediscover your favourite landmarks on our night bus tour of London. Lasting 1hr45m, you'll see your favourite London landmarks lit up in the beautiful evening sky.
Book Now: The Night Bus of London
3. Vintage Routemaster Open Top Tour
Our daytime open top bus tour, travelling on a vintage open top 1950s Routemaster Bus! Travel around London in style as you spot your favourite landmarks.
Book Now: Routemaster Open Top Bus
4. Hire your own open top bus.. at just £40 per person!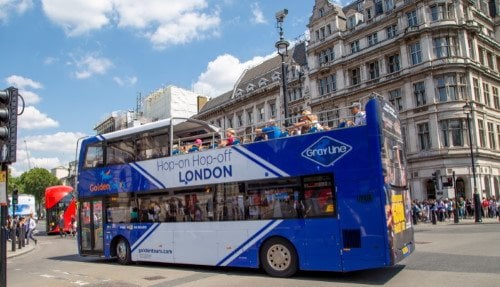 You heard it. We're offering you a once-in-a-lifetime chance to hire your own open top London bus for just £40 per person, with just a minimum booking of 6 people!
Book Now: Private Open Top Bus
5. Comedy Night Open Top Bus
Did someone say comedy on an open top bus? That's right, we're bringing comedy out into the open with professional comedians having you laughing silly as you travel around London.. on an open top bus!
And finally….
And last but not least, lets not forget our classic hop on hop off bus tour of London. The perfect way to sightsee in London, with unlimited use throughout the day.
Book Now: Hop on Hop off London